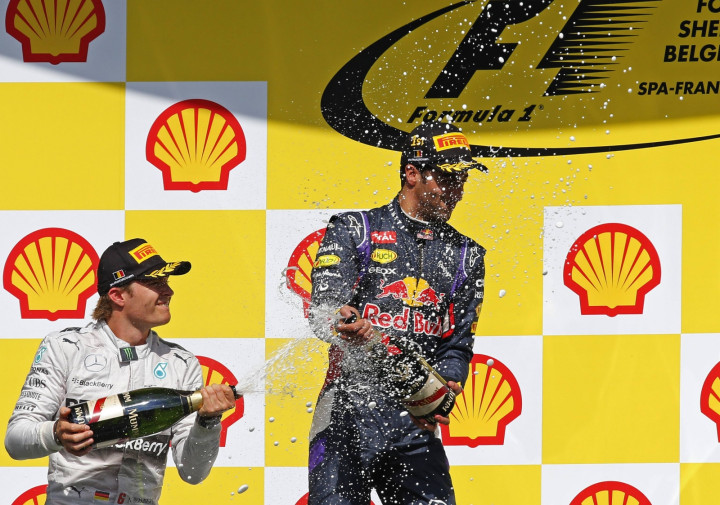 Daniel Ricciardo took his second successive win in the Belgian Grand Prix, but the win was overshadowed by controversy at Mercedes with Lewis Hamilton retiring after he collided with Nico Rosberg.
Rosberg went on to take second place in the race and is now 29 points ahead in the Championship race. But after he damaged both his and Hamilton's cars while trying to overtake the Brit in the second lap, Red Bull were able to take advantage and snatch pole position.
Rosberg was coy over the details of the crash, while Hamilton was more clear over his dissatisfaction at the situation. While both cars were damaged, Rosberg was able to continue, and Hamilton continually contacted his team to ask to retire as he struggled to find his feet again.
"I got a good run on Lewis and tried to go round the outside and we just touched in the end unfortunately and it hurt both of our races, but that's just how it goes," Rosberg said, according to BBC Sport. "I have not seen it yet so it wouldn't be good of me to comment on it, I will have a look at it and then speak about it.
"I was pretty confident [we could get a one-two] we had good race speed but unfortunately it didn't work out for us today."
Mercedes were far more cutting of Rosberg's actions, insisting that what happened was completely unacceptable and will be discussed after the race.
Mercedes executive director Toto Wolff said: "Absolutely unacceptable. Lap number two of a long race and a crash between two team-mates, we have often discussed the situation and it happened today. You don't try to overtake with the knife between your teeth in lap number two and damage both cars.
"This is a decisive moment in the battle between the two of them and for the team. Lewis is very upset, we kept him out there for a long time with a damaged car. He will recover quickly. It is going to be handled."
Hamilton was equally honest in his telling of the situation, but he had less faith in the team acting on his behalf while Rosberg takes a step closer towards winning the individual Championship.
"What can I say?" he mused. "Initially it was really gutting I was driving so hard to try to get what I could get out of the car, it might not have looked that way but it was so damaged and I am just gutted for my team. The guys work so hard, I got a good start, it was looking good, I took the corner as I should because it was my line and I don't know why he hit me but i am sure he will leave here happy tonight.
"I wouldn't say it was worse than Monaco because it couldn't get much worse than that."
He continued: "It's not good, that is 30 points again now and, it took me a long time to catch that before but I know things can change. But if you notice Rosberg's car rarely stops. it's looking good for him this season now.
"There's a lot of things going on in my mind, maybe it is just not my year but I can't let that overtake anything, but we have a great car and a great team and I will keep on fighting.
"Who knows if some fortune will come my way but I will give it a go. It reminds me of when I was at school, the teachers will say something but they won't do anything. The stewards didn't do anything and I am now 30 points behind so I am just going to have push like hell."
Meanwhile for Ricciardo, who beat off a gaining Rosberg at the end with Valtteri Bottas coming third, the win brought more success in his debut F1 season. The Australian has bettered Sebastian Vettel in every race of late, and believes that the Constuctors' Championship is not over yet, particularly with Mercedes having suffered from their own undoing today.
"There was a bit of pressure, it probably looked a bit easier because I had the lead early on and I just kept it," he explained. "We couldn't really rest though because I knew Nico Rosberg would be quick at the end but we held on and it was nice to taste the champagne again.
"It couldn't have gone better considering everything that's happened, especially during pre season. It's been awesome and I have enjoyed every moment of it. Monza will be challenging but if Mercedes slip up then we will be there to capitalise."