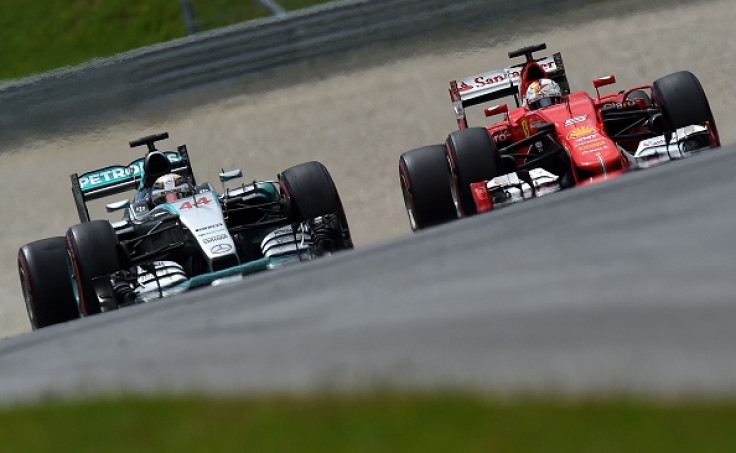 Lewis Hamilton has accused Ferrari of "bluffing" with regards to the true pace of their car despite Sebastian Vettel setting the fastest lap of winter testing thus far on day seven at the Circuit de Catalunya.
The German driver clocked 1:19.024 on the ultrasoft tyres making it the fastest lap ever in eight years around the Spanish circuit, but reports emanating from Barcelona suggested that Vettel backed off in the final sector during his quick lap which stoked talk of the Italian team hiding their true potential.
Ferrari look like they could be genuine challengers this season after a disappointing 2016 campaign and Hamilton agrees that they are very close to Mercedes, while also not denying that the Italians could be faster.
"I think Ferrari are bluffing and that they are a lot quicker than they are showing," Hamilton said after testing on Thursday, as quoted on Sky Sports. "They're very close to us. It's difficult right now to say exactly who is quicker. But they are very close, if not faster."
"Whatever the case, I can't wait to go out and compete. Just a couple more weeks to go…" the three-time world champion added.
Vettel, however, does not agree with his colleague's views and is adamant Mercedes are still the team to beat. The Silver Arrows team are also yet to show their hand, with the British driver admitting that they were only running at 80% of their true potential.
"If you look at the amount of laps Mercedes has done, at how slow they go in testing historically, how much they can ramp it up for races, it's clear. They're very fast if you look at their long-run pace. They're the ones to beat," the four-time world champion said, as quoted by BBC Sport.
Pre-season testing enters its final day on Friday (10 March) - Mercedes, Red Bull Racing and Ferrari have shown that they are still the top three teams in terms of performance. However, the true pecking order will not be clear until qualifying begins on 25 March at the first race of the season in Australia.