F1 Malaysia Grand Prix 2012: Alonso Wins Rain-Hit Race for Ferrari, Vettel and Button Fail to Score Points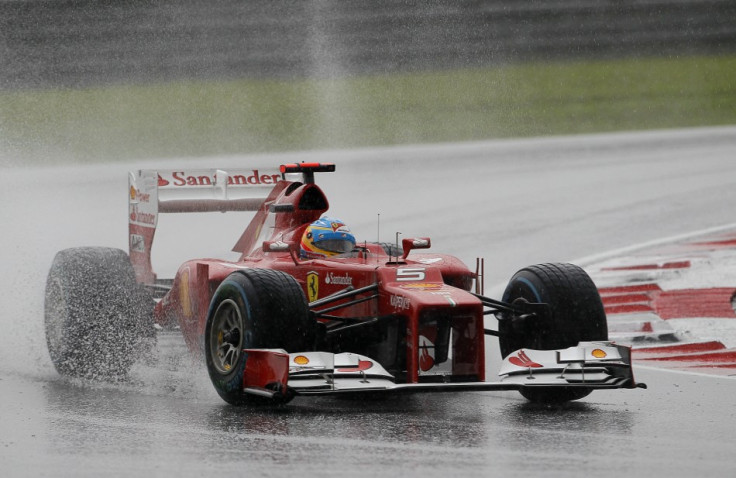 Fernando Alonso has won the 2012 Formula 1 Petronas Malaysia Grand Prix, in a rain-soaked and twice red-flagged race!
The track at Sepang, with unpredictable tropical weather conditions, always makes for hugely interesting racing... and, when it does rain, it tends to come down in absolute buckets!
The 2012 race started with the seemingly dominant McLarens of Lewis Hamilton and Jenson Button on the front row of the grid, for the second successive race. The Mercedes of former World Champion Michael Schumacher took third on the starting grid, with the 2011 Constructors Champion - Red Bull Racing - fourth, thanks to Mark Webber. The returning Kimi Raikkonen (former World Champion with Ferrari) was fifth, while the 2011 Drivers Champion, Sebastian Vettel, had to be content with sixth place on the grid.
The drivers had been warned to expect rain at some point in the race... they just didn't anticipate the scale of the downpour. Ten laps in, the race was red-flagged, twice, for unsafe driving conditions, before it was completely stopped to allow for conditions to better. It eventually did and racing resumed at 10.15 am BST.
Alonso and the Ferrari team, who have struggled for pace all through pre-season and at the opening race in Australia, soon found themselves at the sharp end of the field, thanks in part to problems for McLaren's Jenson Button and the treacherous weather conditions.
The Ferrari driver withstood a late onslaught from a superb Sergio Perez in a Sauber, who finished second, only 2.2s behind the Spaniard. Hamilton came trailing in third, more than 10s off Perez.
Check Out Top Ten Finishers (subject to FIA scrutineering)...
1. F. Alonso (Ferrari)
2. S. Perez (Sauber)
3. L. Hamilton (McLaren)
4. M. Webber (Red Bull)
5. K. Raikkonen (Lotus)
6. B. Senna (Williams)
7. P. Di Resta (Force India)
8. J. Eric-Vergne (Toro Rosso)
9. N. Hulkenberg (Force India)
10. M. Schumacher (Mercedes)
For full results, click here...
© Copyright IBTimes 2023. All rights reserved.