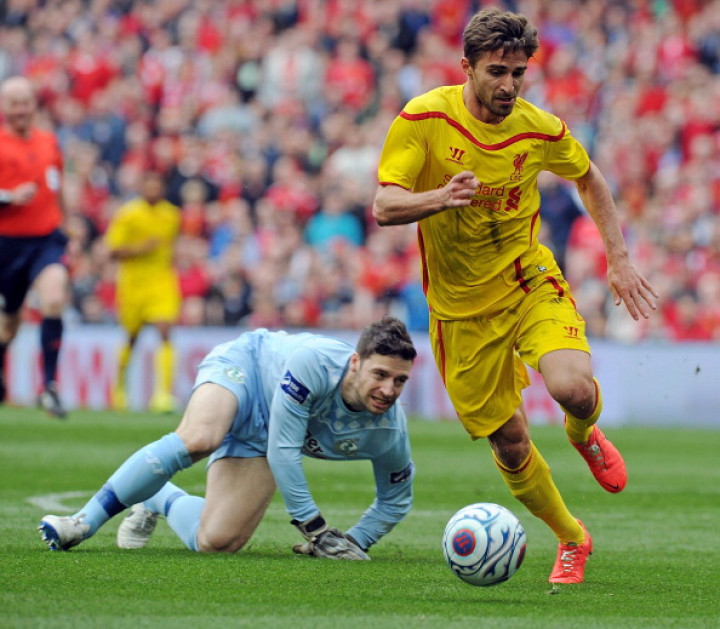 Fabio Borini remains confident he will get his chance to shine at Liverpool and is keen on proving his worth at Anfield this season.
The Italian forward was linked with a move away from the Merseyside club during the summer transfer window. Sunderland manager Gus Poyet publicly expressed his side's desire in signing him. However, the deal did not take shape.
Queens Park Rangers were also looking to sign Borini as a replacement for Loic Remy. The 23-year-old's switch to Loftus Road was called off due to the Liverpool forward's high wage demands. Brendan Rodgers has included Borini in the Premier League and the Champions League this season.
The Reds have Mario Balotelli, Daniel Sturridge, Rickie Lambert and Borini as the recognised strikers in the squad. Despite the competition, the former AS Roma man believes he can fight for a place in the starting XI.
"If I stayed here, it's because I thought I can play. It's not out of thirst of greatness or to keep my spot here. I'm not like that. If I stayed at Liverpool it's because I think I could compete," Borini told the Liverpool Echo.
"Of course, there are excellent players here, but you can't win all the competitions with weak ones. I want to turn the great competition into an advantage and improve day after day."
"I'm very comfortable with Rodgers, I've a serene and professional relationship with him. This year, I'd like to improve compared to what I've done in the past."
"So I want to score more than 10 goals. And, especially, I want to be called up in the national team. I want to take back what I want and what I think I deserve, also in a top team."
"I was at ease at Sunderland (on loan last season). I had an excellent season, we avoided relegation in an incredible way. I scored 10 goals, it's never easy in Premier League. I want to prove myself at Liverpool now," the Italian added.