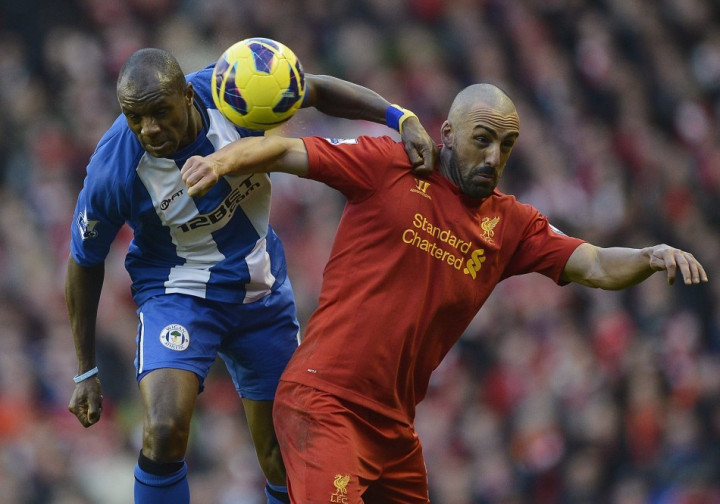 Liverpool full-back Jose Enrique is confident he will replicate his top form this season leaving memories of his nightmare last campaign behind him.
The Spaniard made just nine appearances last season after picking a knee injury in November which required surgery.
However, the 28-year-old has started the new campaign with fresh energy after returning to action during the recent 3-0 victory over Tottenham, coming off the bench in the second half of the game.
"When I arrived here, for the first six months I felt I played well and I want to get to that level. And I will get there. I know that," Enrique told the Liverpool official website.
"To get to your maximum level, it depends a lot on the confidence of the player. I think it's the most important thing,
"You see players have an amazing season and then a bad season. People say, 'why is that?' but it's all about confidence. Players don't go from being the best to the worst in one year. It's about confidence. I am still trying to get to my best and I want to get that confidence."
Enrique now hopes to move on from a "really hard" and frustrating period.
"It was difficult because I didn't know at which point I'd be back, so psychologically it was really hard for me," he explained.
"Luckily, this is all in the past. I am fit again, I've been good and I'm now hopefully injury-free again."
The Spaniard took advantage of the international break to recoup his fitness with a friendly game against Wolverhampton Wanderers, hoping to regain a place in the starting line-up despite Alberto Moreno's arrival.
"I am looking forward. We had a friendly at Melwood recently and I looked forward to it like it was a Premier League game. Ten months without playing is a long, long time.
"I have been training every day, but games are completely different, so these types of friendlies are fantastic. I feel like a child right now, I am so happy."