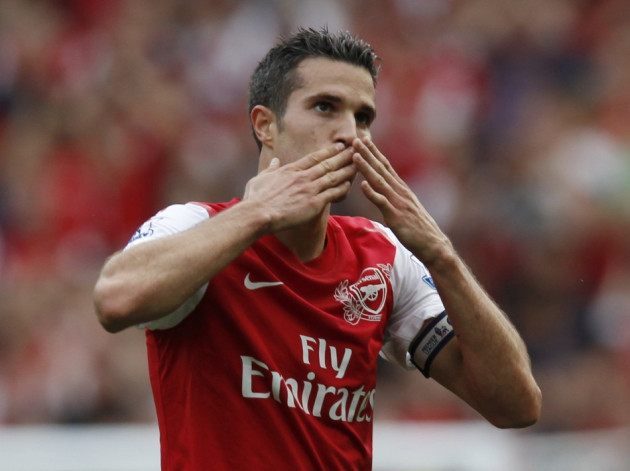 Ex-Arsenal midfielder Cesc Fabregas has implored Robin van Persie to reject any offers to leave the Emirates this summer and believes the Dutchman can fire the club to Premier League glory next term.
Van Persie has been linked with Manchester City, Manchester United and Juventus, with the striker yet to agree to extend his contract beyond August 2013.
Arsenal's captain scored 30 Premier League goals as the club recovered from a disastrous start to the season to finish third and secure qualification for the Champions League.
Talks between Van Persie, Arsenal manager Arsene Wenger and chief executive Ivan Gazidis have proved inconclusive and time is running out to agree terms before the striker departs for Euro 2012 with Holland.
And Fabregas, who was embroiled in a three-year transfer saga before his move to Barcelona last August, would like to see the Dutchman remain in north London.
"As an Arsenal fan I would be happy if he stayed in London to help Arsenal win titles," is quoted in the Daily Mail.
Nevertheless, former Arsenal captain Patrick Vieira warned Wenger that he would only have himself to blame should Van Persie opt to leave on a free at the end of his current contract.
"Losing Samir Nasri and Cesc Fabregas last year was a big shock for Arsenal. If they lose Robin Van Persie this year it will be a drama," Vieira told the Telegraph.
"With Samir and Cesc you can say 'okay those two are gone', but behind you know that there is Jack Wilshere and Van Persie still at the club - but if Robin comes to leave, that means next year it may be Theo Walcott, then the next year is it going to be Wilshere? It is going to be difficult for Arsenal to keep the top players," he added.
"On the other side if they keep Robin they are going to send a positive message to all the clubs and to all the people around and I think it's really important to keep him."