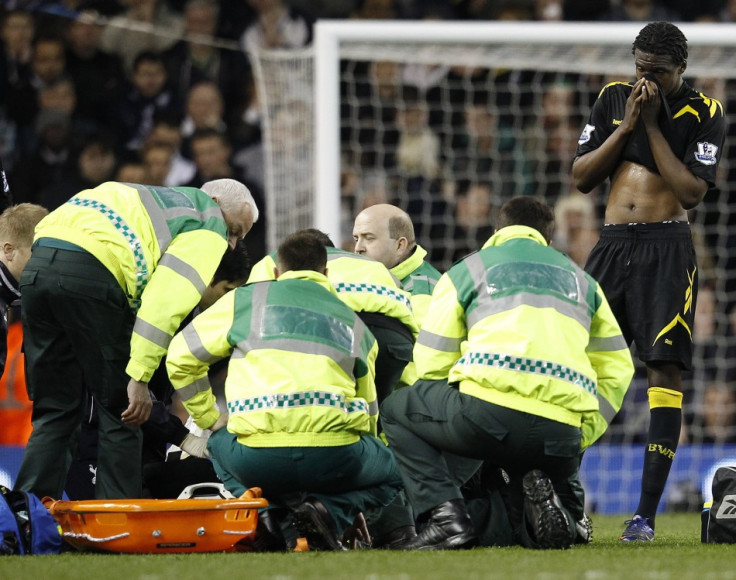 It is unlikely that Fabrice Muamba will ever play football again, says a leading heart specialist, after the 23-year-old midfielder suffered a cardiac arrest while playing for Bolton against Tottenham during the FA Cup quarter-final on 17 March.
According to Peter Weissberg, the medical director of the British Heart Foundation, it would be unwise to advise Muamba to continue his footballing career, although he understands it's not a simple matter to make an early call.
"It is not possible to say but I think it is likely he would be advised not to play again because most conditions like this are a combination of physical activity and an underlying tendency to have a cardiac arrest," the Daily Mail quoted Weissberg.
"I'm impressed [with medical response], but you would expect that at a Premier League football ground," he said.
"[It was] a fantastic example of a well-trained team recognising first of all what was wrong and then moving into action and doing something very, very quickly about it.," he added.
Heart problems have become more common for footballers in recent years, with players such as Real Madrid's Ruben de la Red having to retire at a young age and ex-Sevilla defender Sergio Sanchez Ortega taking a year-long break from the game.
And even when players, such as Marc Vivien Foe and Antonio Puerta lost their life after suffering cardiac arrest while playing, Weissberg finds no clear way of improving the situation by conducting prior screenings.
"It will happen from time to time and the reason for that is, as doctors, we cannot yet predict with total accuracy those players who might have an underlying heart problem. I'm afraid the technology is not good enough yet to identify the really, really subtle heart conditions which just aren't apparent until someone keels over," the doctor said.
Weissberg said there are ways to help Muamba if he suffers another attack in the future but also warned it does not mean he should return to playing professional football.
"With people like Fabrice we can put in a defibrillator inside the body. But I repeat, I think it is unlikely he would be advised to play football again even though he may be fit and healthy to do so," Weissberg opined.