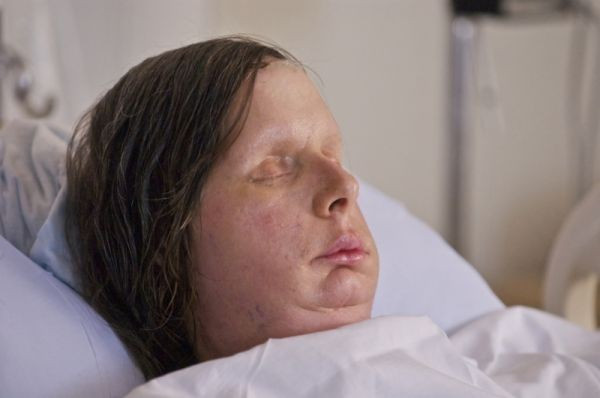 Charla Nash, 57, revealed her new face in her hospital bed at Brigham and Women's Hospital in Boston, which appears dramatically different with a new nose, lips and facial skin.
The images showed a marked improvement from the last time she appeared in public on the Oprah Winfrey Show in 2009. There now appears to be no visible signs of scarring or disfigurement.
In a statement Nash said. "I will now be able to do things I once took for granted,"
"I will be able to smell. I will be able to eat normally. I will no longer be disfigured. I will have lips and will speak clearly once again. I will be able to kiss and hug loved ones" she was quoted as saying by Reuters.
Ms Nash, from Connecticut, was injured after a friend's 200-pound (91 kg) pet chimpanzee attacked her two years ago. She lost her hands, lips, nose and eyes, leaving her blind and disfigured after the attack. The animal was eventually shot and killed by police.
Ms Nash's family is suing the estate of the chimpanzee's owner, Sandra Herold, for $50m and wants to sue the state for $150m, claiming that officials failed to prevent the violent attack. Mrs Herold died last year of an aneurysm, reports the Independent.
Nash's face underwent a 20-hour full face transplant at the hospital in May, which was rebuilt by a medical team of more than 30 physicians, nurses, anaesthesiologists and residents.
An anonymous female donor provided face, hands and other tissue material that made the surgery possible.
Unfortunately the hand transplant was unsuccessful as the hands did not thrive after complications from pneumonia and were removed.
However doctors have said another hand transplant could be attempted if a suitable donor is identified, said Reuters.
Nash's full face transplant was the third surgery of its kind performed in the United States, all at the same hospital.