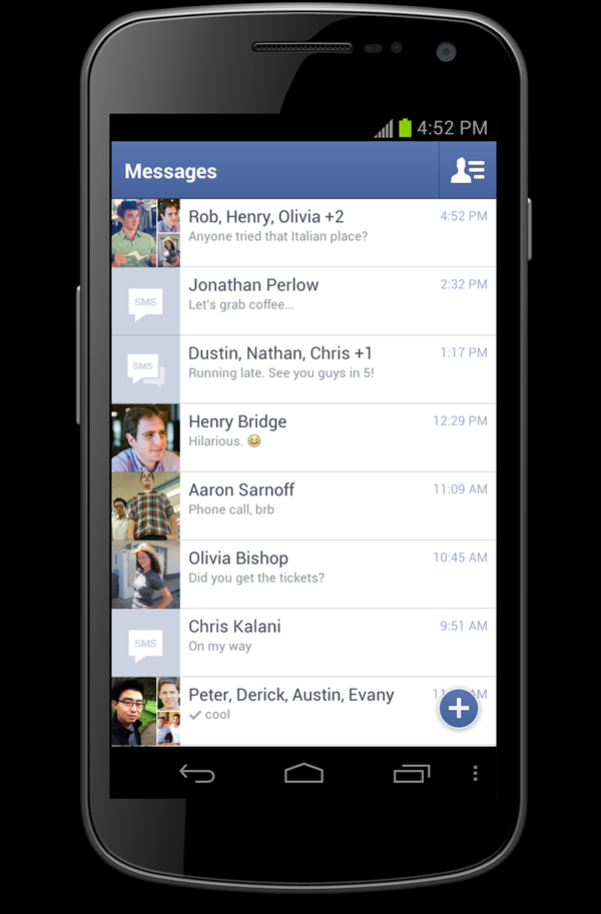 Facebook has updated its Messenger and Facebook app in Google Play store which comes with better design and features. With the updated Messenger, users will now be able to swipe their finger to the left anywhere on the app that allows them to see who among their friends are available, in addition to sending a message to their friends, according to a post on its official blog.
With the revamped design, users can also add their friends they message the most to the top of the Favourites that makes them easily accessible. Some Android smartphones will allow users to text right from Messenger. "That way, all your texts and Facebook messages are together in one place," claims the post.
According to the blog, the update has already been made available for Android smartphones, while iOS users could soon expect the update. According to CNET, the text message feature is being supported on several devices such as HTC Evo 3D, HTC One X, LG Optimus Black, LG Optimus Hub, Samsung Galaxy Ace, Samsung Galaxy Nexus, Galaxy S3 and Galaxy Y.
The updated Messenger includes the latest design for conversations and features speech bubbles in order to separate text. It comes with improved speed, reliability and bug fixes.
The updated Facebook app features a new button on the upper right of News Feed which lets users see who among their friends are available to message. It comes with some improvements that make the app more secure and reliable. It reportedly contains bug fixes for errors when users opt for multi-photo selections, device restart as well as pushing the notifications.
All Things D reports that Facebook has plans for rolling out the "feature to as many as Android devices" as possible in the coming months. The company has several mobile messaging services to compete with such as Apple's iMessage, Blackberry's BBM and Google's Talk.
"The more users grow accustomed to a particular method of communication, the harder it will be to break them of the habit and onboard them to Facebook's system," claims AllThingsD.