Facebook saw monthly users on mobile grow by more than 50% compared to last year, passing 750 million monthly active users.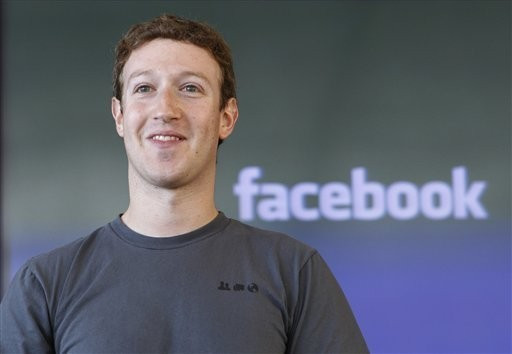 Announcing its latest set of financial results, the social network said it had 665 million daily active users in March representing a 26% increase compared to the same month last year, while monthly active users are now at 1.11 billion as of 31 March, up 23% on last year.
However it was mobile use which saw an even larger gain, with monthly active users of Facebook's mobile apps reaching 751 million, an increase of 54% from this time last year.
Looking at the financial side of things, Facebook posted first quarter revenue of $1.46bn (£940m), narrowly beating estimates of $1.44bn and representing 38% growth from the same quarter last year.
Revenue was down slightly on the $1.58bn it posted in the fourth quarter of last year, but was comfortably above Q1 of 2012, which stood at just over $1bn.
Earnings per share came in at 13 cents, just beating Wall Street estimates of 12 cents per share.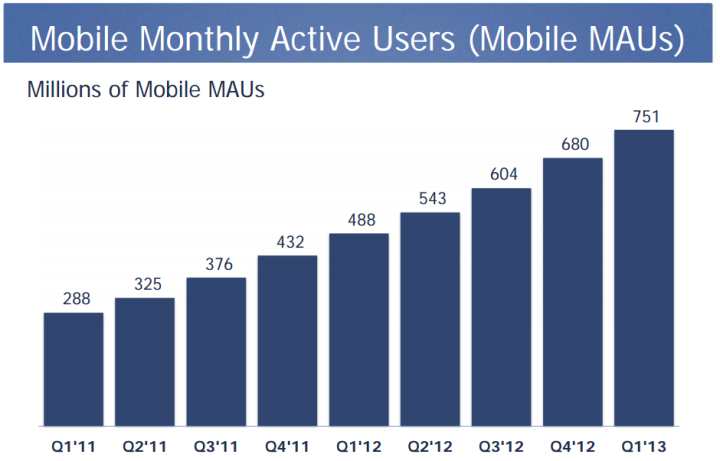 "We've made a lot of progress in the first few months of the year," said Mark Zuckerberg, Facebook founder and CEO. "We have seen strong growth and engagement across our community and launched several exciting products."
Advertising
Most importantly for Facebook and its business model, revenue from advertising continued to rise, up to $1.25bn, representing 85% of total revenue and an increase of 43% from the same quarter last year
Meanwhile, revenue earned from mobile advertising - a crucial part of Facebook's business model and a revenue stream which barely existed a year ago - represented 30% of first quarter revenue, up from 23% in the last quarter and just 14% a year ago.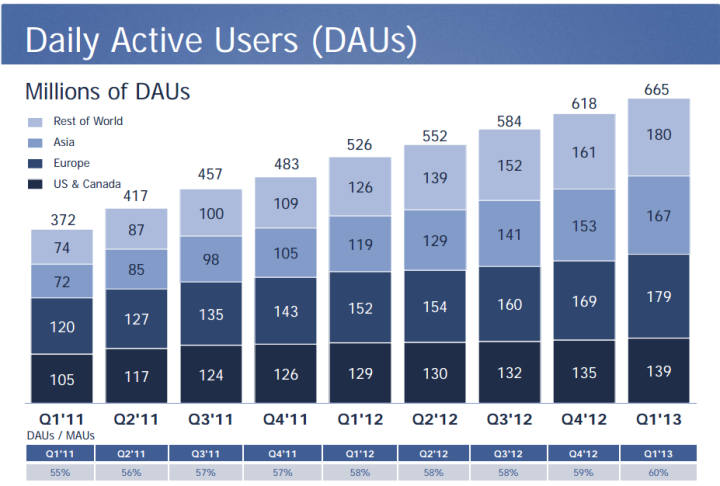 Facebook's mobile strategy took a significant step forward this quarter with the introduction of Facebook Home, a replacement lock screen, home screen and application launcher for high-end Android smartphones, as well as the HTC First, the first phone to come with Facebook Home installed by default.
Home from Home
During an earnings call Zuckerberg said: "We got off to a good start with strong engagement and growth across the community. One of the products I'm most excited about is Facebook Home...just the first release in a long journey. Over next few months we hope to push Home out much more broadly and get it into the hands of much more people."
Zuckerberg said he was "really proud of how Instagram is doing. It was doing 23 million [monthly active users] when we agreed to purchase it, today over 100 million use it each month. Instagram grew faster than the Facebook community did when it was that age."
Chief financial officer Sheryl Sandberg said she is "excited about the opportunities ahead of us...we're seeing strong growth in mobile ad business all around the world, particularly in Asia."