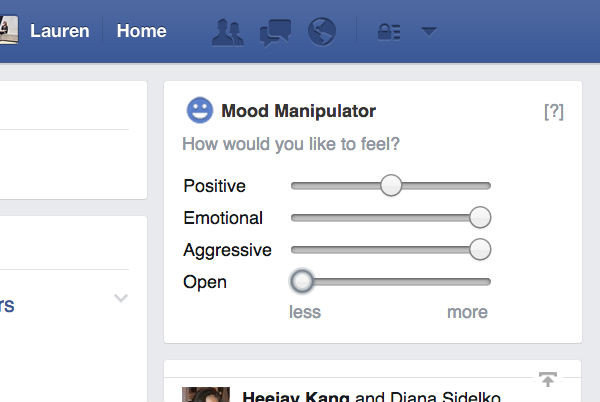 Facebook's 'emotional contagion' study which made headlines across the world for all the wrong reasons can now be experimented by users themselves via a Google Chrome plugin.
This browser extension termed 'Facebook Mood Manipulator' can be installed for free. The Google Chrome plugin lets users take control of their feelings and filters Facebook news feeds accordingly.
The mood manipulator extension sorts Facebook news feed posts on four emotional parameters viz. positive, emotional, aggressive and open. Users can customise these "mood settings" to get tailor-made news feed.
According to Lauren McCarthy, developer of the Facebook Mood Manipulator Chrome browser extension, the tool is inspired by Facebook's widely criticised 'emotional contagion' campaign that led to news feeds of more than 700,000 users being compromised.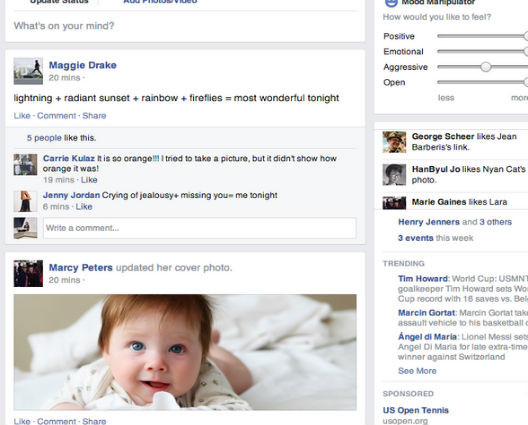 "Why should Zuckerberg get to decide how you feel? Take back control. Leverage Facebook's own research to manipulate your emotions on your terms," states McCarthy on her website.
"It is based on Facebook's research into massive-scale emotional contagion through social networks. The linguistic analysis is done with Linguistic Inquiry Word Count (LIWC), the same system used in the Facebook study," states McCarthy.
Once installed, the extension places a box with sliders on the top right hand side of users' Facebook page. These sliders, four in number, lets users select how they feel, and sorts news feeds based on how users set these 'mood sliders'.
Users also get to choose between "less" and "more" intensity levels. For instance, setting all four sliders to "less" displays Facebook content that is more likely to be less aggressive and more pleasing to the eye rather than high intensity /aggressive content.
Users can also vary the 'mood sliders' to check out different kinds of posts based on their current mood.
However, the success of McCarthy's Facebook Mood Manipulator is a topic that still needs to be debated by social media experts and psychologists across the world.
In summary, this is the right time for Facebook users to add the 'Mood Manipulator' plugin to Google Chrome and determine 'emotional contagion' with a group of friends.
Do let us know how you felt after installing and checking Lauren McCarthy's Facebook Mood Manipulator.
Latest update on the outcome of Facebook's secret study: The social networking site's COO Sheryl Sandberg said that the whole 'emotional contagion' study was poorly communicated. Facebook's controversial study faces probe in the United Kingdom by a UK regulator.