Facebook shares fell to a new low in trading on the Nasdaq, despite the company announcing it is rolling out ads for the first time to its mobile apps.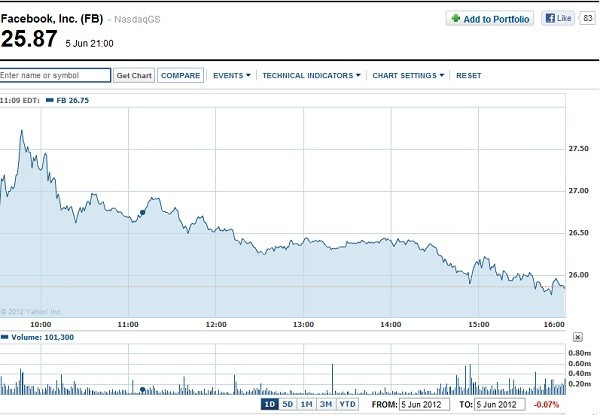 Facebook's much hyped IPO last month was beset by a number of problems. Technical glitches delayed the launch of Facebook's highly prized shares on the stock market and many traders have since sought compensation from Nasdaq as they were unsure if trades had been placed or not.
Facebook's shares finished the day yesterday at a new low of $25.87 (£16.82) which represented a dip of 3.8 percent from thwe previous closing price, and is well below the IPO price of $38. This means that Facebook has lost over 33 percent of its valuation since CEO Mark Zuckerberg rang the Nasdaq bell on 18 May.
One of the main concerns for Facebook's investors is how the company is going to convert its huge mobile presence into profit, as none of its mobile apps currently display ads.
Over 488 million of its 900 million user-base access the social network through a range of mobile apps, but these users will soon see some promoted material appearing in their news feeds, according to an announcement made by Facebook.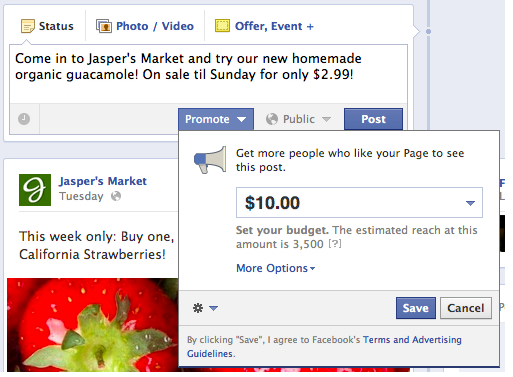 The new product will allow advertisers to place sponsored stories in users' news feeds on desktop and mobile devices, labelled as 'Sponsored'. Last month it was revealed that Facebook was testing a system in New Zealand whereby individuals could promote their own posts in friends' feeds for a small fee.
The new system will be music to the ears of brands managers who have been struggling to get posts seen on Facebook by a significant number of people. Indeed, earlier this year, Facebook revealed that on average only 16 percent of fans saw a brand's post.
A brand can now pay $5, $10, $15 or $20 to "get more people who like your Page to see this post. Promoted posts help increase the people you reach for any eligible post. It's an easy and fast way to reach more of the people that "like" your page and your friends," said a Facebook spokesperson.
As well as changing the way companies will be able to promote themselves on Facebook, the company has made changes to the way a brand page is administered. Facebook has introduced different levels of page admins such as Manager, Content Creator, Moderator, Advertiser and Insight Analyst along with their set of roles.
Another addition will be the ability to schedule posts to go live at a set point in the future. This will allow page administrators to schedule posts up to six months in advance at 15 minute intervals.
While Facebook's price continues to fall, the fact that the company is beginning to address the concerns of investors over its ability to capitalise on its popularity on mobile devices.