Facebook will now send messages to people believed to be at risk of suicide if a friend reports worrying activity based on recent posts.
Users who Facebook believes are at risk will be contacted and informed that a friend has flagged issues with their recent behaviour on the social network, and offer to put them in touch with the National Suicide Prevention Lifeline or a friend. They will also be offered tips and support on "how to work through" the issues based on work Facebook has carried out with groups such as Forefront, Now Matters Now, Save.org and others.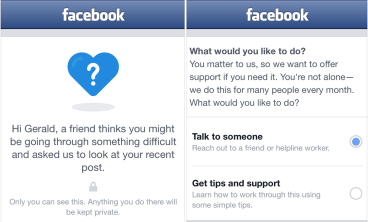 This system will only be available in the US initially but Facebook says it is working "to improve our tools for those outside the US".
The new measures mark an expansion of its suicide prevention features first implemented in 2011, and as it rolls out in the next couple of months the expanded service will see the addition of a trained team which is available to reports 24-hours-a-day, seven-days-a-week.
The social network is also adding more support for the person who flagged up the worrying behaviour "including options for them to call or message their distressed friend letting them know they care, or reaching out to another friend or a trained professional at a suicide hotline for support".
Facebook's Rob Boyle and Nicole Staubli, said: "If someone on Facebook sees a direct threat of suicide, we ask that they contact their local emergency services immediately. We also ask them to report any troubling content to us. We have teams working around the world, 24/7, who review any report that comes in. They prioritise the most serious reports, like self-injury, and send help and resources to those in distress."