Facebook wants users to expose even more of their lives, encouraging them to post photos and statuses from their entire life stories - even from before the site launched - on the social network.
Founder and CEO Mark Zuckerberg spoke to developers at the company's annual F8 conference, where he announced a complete redesign to users' profile pages, and introduced Facebook Timeline, which replaces the familiar profile pages.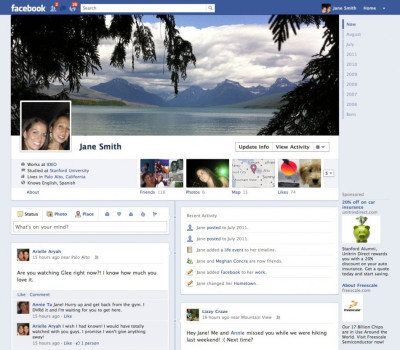 "People feel an intense ownership over their profile. Millions of people have spent a lot of time to tell the story of their life through their profile. Millions of people have spent years curating their lives, and there's nowhere to show this. The stream was your 15 minutes; now I want to show you the rest." Zuckerberg, 27, told a gathering of developers and over 100,000 viewers via a live video stream.
The billionaire CEO also announced that Facebook now has more than 800 million users, and half a billion visited the site in a single day last week, a record for the seven-year-old company.
Timeline focuses heavily on images through which users tell the story of their life, as well as a log of any apps that they use. These apps can be used to keep track of everything, from how far you run and what books you've read, to what you've been cooking.
Zuckerberg added: "What Timeline does is show all the important stuff recently, then summarises the rest of your life. This is the magic and how you can tell the whole story on a single page."
Among the changes to profile pages, users can now place a cover art image at the top of their Timeline. Facebook suggest that this image could be something important in your life; a pet, loved one, or recent holiday snap.
The social network will be hoping that these updates will be better received than those earlier this week, which led many users to demand, "Bring back old Facebook".