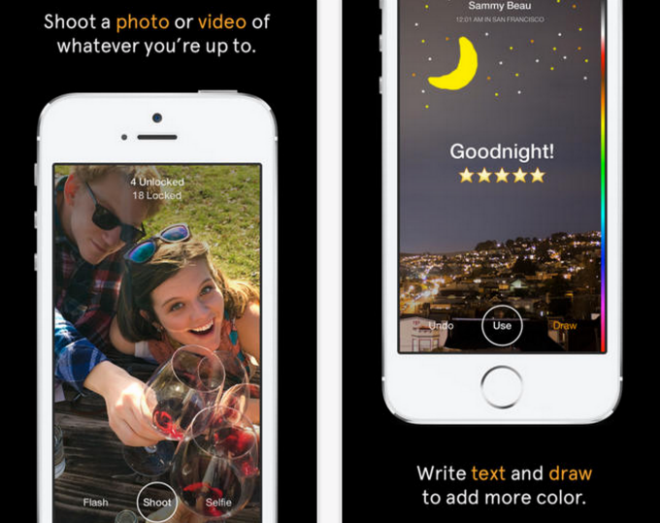 Facebook is clearly eager to make a mark in messaging. Not only has it already created several of its own apps, it has this year tried and failed to buy Snapchat before successfully acquiring WhatsApp for around £11bn.
Now the company is looking to grab some of the huge user base Snapchat has carved out for itself with the launch of Slingshot, a messaging app with similar features to Evan Spiegel's app.
While not officially confirmed yet, Slingshot was accidentally released on the App Store on Monday evening, before it was quickly pulled - in much the same way that Snapchat's main feature works.
Like Snapchat, Slingshot will allow users to quickly share photos, video and messages, as well as allowing users to scribble messages on the photos sent by friends.
According to the marketing text accompanying the Slingshot app on the App Store - which was captured by TechCrunch before the app was pulled - Facebook's new creation will let you "quickly share moments — little and big — with all your friends. Shoot a photo or video of what you're up to and sling it to a bunch of people. They won't be able to see your shot until they sling something back. Tap on a shot to react, or simply swipe it away."
While users of Snapchat can set a time limit on how long there message remains on a friend's phone, Slingshot has a slightly different take on the ephemerality of content, though once a message has been swiped away is it gone for good.
In a statement Facebook said: "Earlier today, we accidentally released a version of Slingshot, a new app we're working on. With Slingshot, you'll be able to share everyday moments with lots of people at once. It'll be ready soon and we're excited for you to try it out."
The social network has not announced a specific launch date but it seems as if the app is not too far away from completion.
Facebook has been working to create a suite of apps which will replicate features traditionally associated with the big blue social network.
This work is being done by the company's Creative Labs division, which has already created the Paper app and is now working on finishing Slingshot.