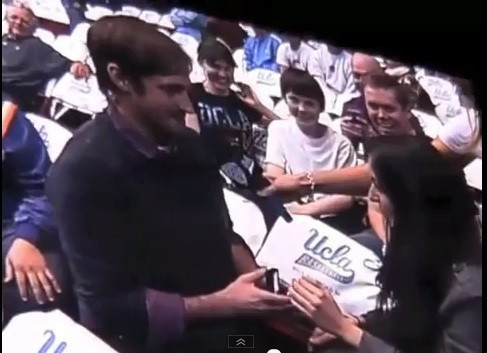 A basketball fan, who was rejected when he proposed to his girlfriend live on a big screen at a college game, has suffered more humiliation after the video went viral.
The awkward one and half minute clip which captures the whole car crash proposal in all its devastating glory has been viewed nearly three million times since it was posted just two days ago.
The footage, which took place at the UCLA game on December 23, shows the excited young man getting on one knee on the "Mistletoe Cam" during a match break at the LA game.
He can be heard telling his surprised girlfriend, "I knew I was going to do this the first day I met you" but instead of saying a crowd-pleasing "yes", she takes one look at the ring and flees.
The devastated boyfriend is then forced to hang his head and soak in the excutiatingly embarrassing turn of events, whilst the stadium crowd gasps and boos.
The mystery woman has since come under fire online for rejecting and publically embarrassing her boyfriend.
One YouTube User wrote: "Personally, I think the woman wanted a bigger ring. Happens all the time; especially on Christmas, some of you know what I'm talking about."
Whilst other users supported her actions claiming that it was in fact her boyfriend's fault for proposing in such a public place.
Another online user said: "Proposing in front of a whole audience is just a failure in itself. The only one who f**ked up is the guy who thought proposing in front of everyone would make the girl say yes in order to not humiliate him. But it backfired"
Watch The Video Here...