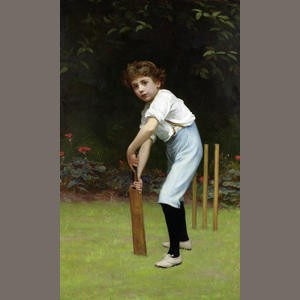 An original painting on Victorian England is for sale at Bonhams 19th Century Paintings sale in London on 11 July.
"Captain of the Eleven" painted in 1882 became a lasting and much loved symbol of childhood innocence in late Victorian England and is still instantly recognisable today.
Estimated at £100,000-150,000, the image reportedly represents the Victorian affection for childhood themes, which became hugely popular. After inclusion in the Pears Annual, published in 1898, the image was reproduced in countless posters, postcards and presentation cricket bats, throughout the 20th Century.
For the past 86 years the painting has been hanging in a primary school in Blackpool, a gift from a former governor. It is being sold to raise funds for the school.
"The painting was donated to the school in 1926 by a local councilor. It has hung in our hall since then and has been part of the history of our school. The Governors and staff are passionate about ensuring all our children receive as many opportunities as possible to broaden their life skills and equip them for their adult lives," said a school spokesman.
The painting by Philip Hermogenes Calderon was originally in the collection of A & F Pears.
Francis Pears' son-in-law and Pears Managing Director, Thomas Barratt, was instrumental in bringing Calderon's fresh-faced cricketer to a wider audience.
With Barratt's understanding of the Victorian audience and the appeal of childhood images, it is perhaps not surprising that he is sometime referred to as the father of modern advertising.
"Pears pioneered modern advertising techniques using images to reinforce the qualities they wanted the public to associate with the product," Bonhams Director of 19th Century Paintings, Peter Rees said.
Born in France of a French mother and Spanish father, Philip Calderon was the leader of a group of artists called the St John's Wood Clique, whose aim was to introduce a fresh approach to historical painting. Calderon was a highly regarded Royal Academician; his most famous work, Broken Vows, is in the Collection of Tate Britain.