Far-Right EDL Split as Members Favour UKIP Over Affiliated Party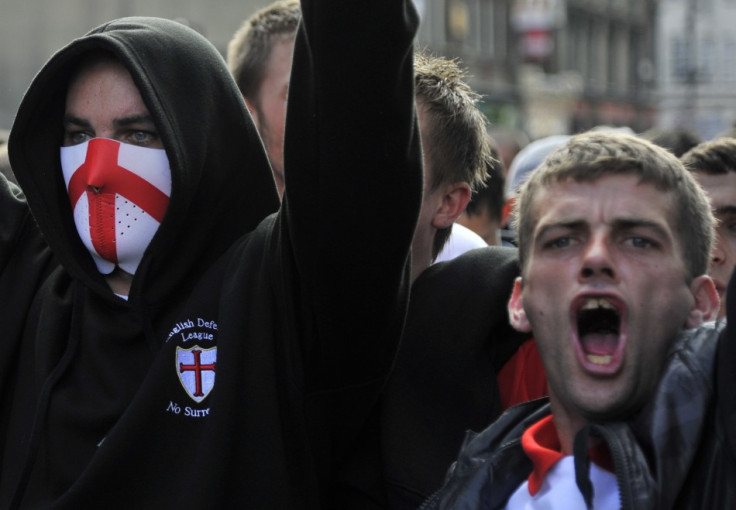 Cracks are appearing in the far-right English Defence League's (EDL) political ambitions, as its members favour the United Kingdom Independence Party (UKIP) over its affiliate the British Freedom Party (BFP) - by a margin of almost three to one.
In November, the EDL revealed they were forming an alliance with the BFP, which was started by disgruntled former British National Partymembers, so that its supporters could seek political office in local elections.
The EDL forums, however, are showing a preference for anti-European Unionists UKIP over the BFP.
A straw poll on a forum thread shows that almost three times as many of the EDL's respondents will vote for UKIP over the BFP.
This split could scupper any formal move by the party to enter British politics.
"I suppose the 'official' EDL line will be vote BFP, but it seems most people are in the UKIP camp, which raises the issue of the anti-sharia vote fragmenting," said one user called "Sikh_supporter".
The EDL, led by sunbed shop owner Stephen Yaxley-Lennon, purports to campaign against "militant Islam" and insists it is not racist, though it has been heavily criticised for racism at its demonstrations, as well as for having links to fascists.
It had been rumoured that many EDL members were unhappy with forming a political alliance with a party, preferring to carry on as a protest group in towns and cities across Britain.
At the time of publishing, there was no response from the EDL to the request for a comment from the International Business Times UK.
A spokesman for UKIP, which describes itself as "libertarian and non-racist", said that "fair-minded people" would see the "significant differences" between the party and people who support the EDL.
While UKIP is "not comfortable" with its support base within the EDL, he said "people can vote for who they like".
The party has "very strict rules" on affiliations with racist organisations and any UKIP members found with ties to one are "chucked out", he said.
Nevertheless, in the case of organisations like the EDL where there is no formal membership, it is difficult to monitor if anyone is linked.
"To actively do something about it would be worse than our discomfort," he said, adding that the "depth of intrusion" required to vet someone's background would be "deeply un-British".
© Copyright IBTimes 2023. All rights reserved.