Faraday Future has revealed its first production car. The all-electric vehicle, called the FF91, was announced at the CES technology show in Las Vegas on Tuesday (3 January).
The FF91 comes a year after Faraday Future pulled the covers off its FFZero1, a not-functioning, Batmobile-like prototype with a claimed 1,000 horsepower and autonomous driving features.
A year on and FF has shown off with the FF91 what it claims to be a step towards the future of both cars and car ownership. Nick Sampson, senior vice president of research and development at FF, said the reveal represented "day one of a new era...of a new species."
Described as the "world's first truly connected car", the FF91 will be revealed gradually in "chapters" over the coming year. The main themes of this first chapter were connectivity, personalisation and performance.
FF spoke about how the car "knows you and adapts to you" by connecting to your phone over Bluetooth and recognising your face. The car sets the seat, interior lighting, climate and music for each driver.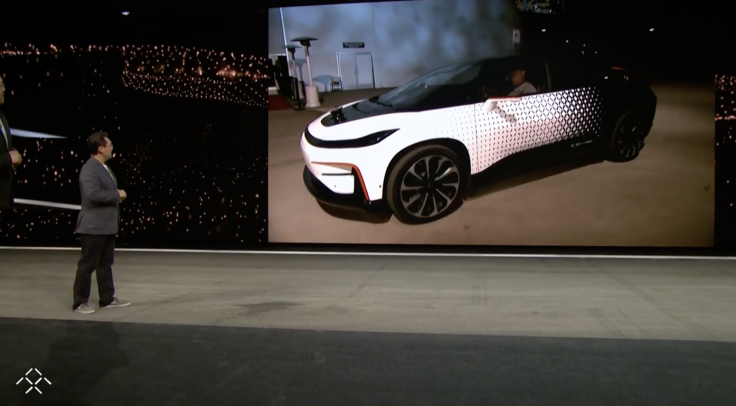 The FF91 boasts over 30 sensors, including radar, lidar and ultrasonic, to help make the car autonomous. Via a smartphone app, the car can drive away from the owner and park itself, letting them know where it is once it has found a space. Audi demonstrated a similar technology at CES two years ago and Tesla is also working on remote parking. But FF says the computer its car uses to drive itself is the most powerful ever fitted to a car.
However, although an autonomous demonstration in a car park worked without a hitch, a live demonstration of the car driving itself on stage failed to work. "As a new baby, she is often very, very timid" an apologetic Sampson said as the car moved just a few feet across the stage.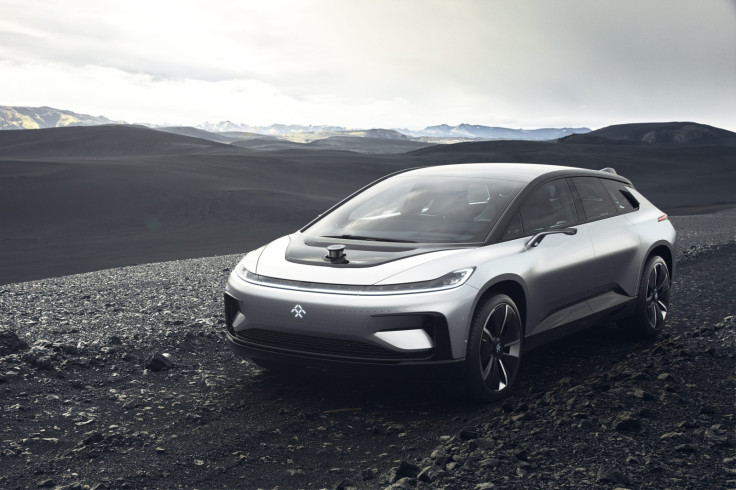 Charging at 500 miles of range per hour
As for charging, the FF91 can be charged at home or via any public electric car charging system. Wireless charging is also being "rapidly developed". It is claimed to have "the fastest" charging system, which can refill the battery with 500 miles of range per hour. The car's battery is 130kWh, 30kWh greater than the largest battery fitted to any Tesla car to date; this means the FF91 has a range of 378 miles, compared to up to 315 in a Tesla.
The FF91 is claimed to produce a Bugatti Veyron-matching 1,050 horsepower. This means a 0-60mph time of 2.39 seconds, putting it in the same league as the quickest hypercars ever made and making it 0.11 seconds quicker than the Model S P100D with Ludicrous. However, in a live demonstration on stage the FF91 beat the Tesla by just 0.01 seconds.
Pre-orders are open now and can be secured with a refundable $5,000 (£4,000) deposit. Deliveries are "estimated" to begin in 2018, while the price has not yet been disclosed.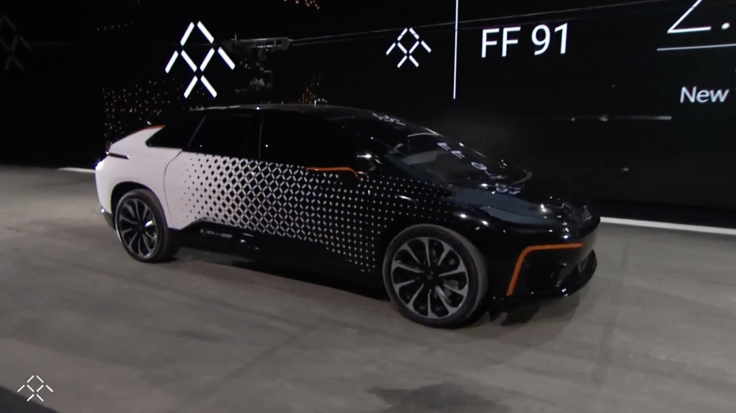 Faraday Future compared itself during the press conference to the likes of Nikola Tesla, Karl Benz and Tim Berners-Lee.
Faraday Future, a US-based startup with Chinese backing, is claimed to have put everything on the line with the FF91. Former employees speaking to the press under condition of anonymity recently claimed the launch at CES this week will be a make-or-break moment for the young company. FF is also believed to be struggling financially due to a drying up of funds from its billionaire backer Jia Yueting, who is also pumping money into a second Chinese electric car startup, LeEco.
High stakes on the Vegas strip
The stakes for FF's trip to Vegas could not be higher, if company insiders and multiple former employees speaking to numerous publications, including IBTimes UK, are to be believed. Multi-million dollar lawsuits over missed payments to contractors have resulting in the halting in construction of FF's $1bn factory in Nevada.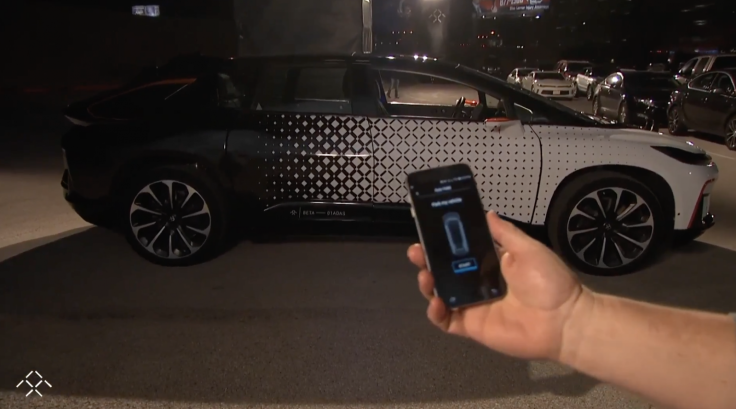 A former Faraday Future worker told the Financial Times in late-November that, even if a production car is shown in Las Vegas, delivering it to customers in 2017 was "not possible", adding: "If CES goes badly, it's all over. It will be a long while before there is a production car."
Now Faraday Future has finally shown its hand, the future of the company rests in the balance. Will consumers fawn over the FF91 like those who placed 400,000 pre-orders for the Tesla Model 3 did? Or will Yueting fold in the hope of seeing a better return at LeEco and the LeSee?