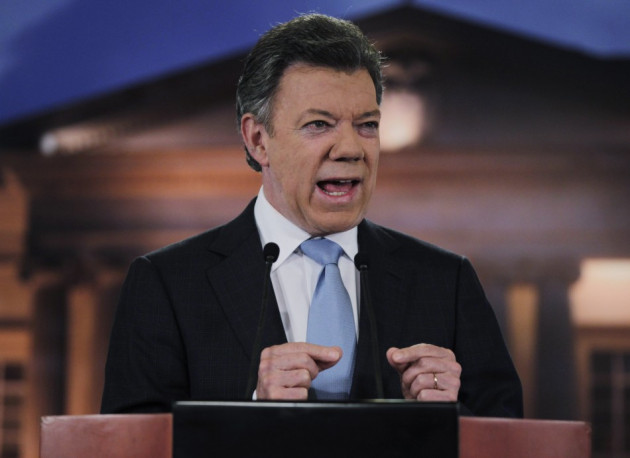 Colombia's president Juan Manuel Santos has confirmed that his government is seeking peace with Farc, the country's biggest rebel group, after more than five decades of war.
Santos was responding to reports in local media that "exploratory discussions" with the leftist Revolutionary Armed Forces of Columbia, formed by members of the Colombian Communist party, have started during a meeting in communist-led Cuba.
Addressing the nation with a televised speech, Santos said the results of the talks would be public "in the coming days".
He added: "Since the day my government took office, I have respected my constitutional obligation to seek peace, and we have undertaken exploratory talks with Farc to seek an end to the conflict."
The last negotiations date back to 2002 and were halted after authorities accused the rebels of taking advantage of the demilitarisation of parts of the country to rebuild their forces.
Third party interest
The president also said that another leftist rebel group, the National Liberation Army (ELN), is interested in being part of the process.
"We are open [to being involved]," the ELN's leader Nicolas Rodrigues, also known as Gabino, told Reuters. "It's exactly our proposal, to seek room for open dialogue without conditions and start to discuss the nation's biggest problems.
"If there's dialogue, there'll be accords and new ways of exploiting the riches of the country, but if there's no dialogue and on the contrary they insist on taking the side of capitalist demands, inevitably the fighting will continue."
Colombia spends 2 percent of its GDP, or $16bn, in waging war with rebel forces.
Some experts claim Farc and ELN are funded in large part by illegal activities such as drug-trafficking, gold mining and arms smuggling. Farc is estimated to make around $500m from the illicit trade per year, according to CNN. A 2005 International Crisis Group report claimed around 65 of the group's 110 operational units were involved in the cocaine trade.
Farc, which is considered a terrorist organisation by the EU and the US, has been fighting a guerrilla-style war to overthrow the government since 1964. However the organisation has shrunk considerably in the last ten years, partly as a consequence of a US-backed security campaign, and the death of several top leaders.
Alfonso Cano, head of the group, was killed last November as well as the group's second-in-command Raul Reyes.
However, between 2010 and 2011 attacks from Farc grew by 10 percent according to the Colombian thinktank Nuevo Arco Iris.