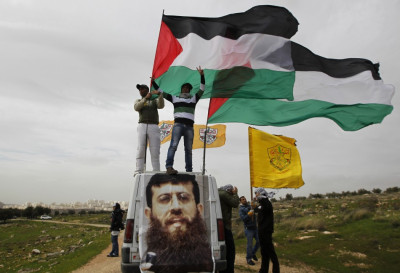 Thousands of Palestinians marched in Gaza and the West Bank demanding the release of Islamic leader Khader Adnan, who is engaged in a hunger strike in protest against his detention by Israel.
As the 33-year-old prisoner entered the 62nd day of his hunger strike, his health had steadily declined and his wife, Randa, said she expects the worse.
"His health has drastically deteriorated since the last time I saw him," she said. "Yet he insists on continuing with the hunger strike."
Doctors from the group Physicians for Human Rights warned that he is approaching "imminent death".
Adnan has been held without charge under "administrative detention" since mid-December. Israeli authorities have refused to disclose what he is accused of or disclose any evidence against him.
Crowds of supporters, estimated to number 5,000, had amassed in the Gaza Strip.
Hundreds of Palestinians had taken to the streets in the city of Jenin in support of Adnan, Reuters reported.
"We will pursue our jihad and resistance. We will sail in the sea of blood and martyrdom until we land on the shore of pride and dignity," Islamic leader Nafez Azzam said during Friday prayers at Gaza's oldest mosque, al-Omari.
The Carter Center, a human rights organisation founded by former US president Jimmy Carter, called on the Israeli government to either release Adnan or charge him.