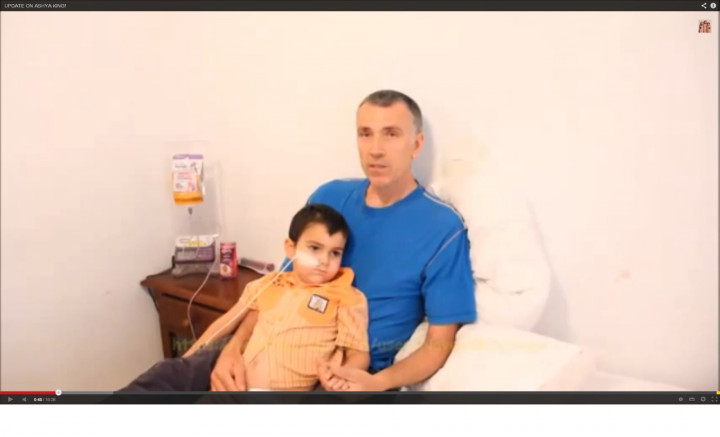 The father of Ashya King released a video explaining why he took his son from hospital in the UK, where he was being treated for a life threatening tumour, and fled to Spain.
The family was discovered yesterday when they checked into the Hotel Esperanza in Benajarfe.
Ashya King, 5, was taken to a hospital in Malaga for emergency treatment, and parents Brett King, 51, and Naghemeh King, 45, were arrested by police.
Earlier Mr King released a 10 minute video on YouTube in which he pleaded with police to call off their international search.
In the video, Mr King lies on a bed with Ashya, who is attached to a drip.
He said that he wanted Ashya to have proton beam therapy, which is not available on the NHS, to treat his brain cancer. Therefore, he said, he had no other option but to take Ashya from Southampton General Hospital, where he was being treated.
"Proton beam is so much better for children with brain cancer," he said in the clip. "It zones in on the area, whereby normal radiation passes right through his head and comes out the other side and destroys everything in his head.
"So we pleaded with them for proton beam treatment. They looked at me straight in the face and said with his cancer – which is called medulloblastoma – it would have no benefit whatsoever."
He said that when he told doctors in the UK that he wanted Ashya to have proton beam treatment, they threatened to take out a protection order that would have prevented Mr King from seeing his son.
He said: "After that I realised I can't speak to the oncologist at all, because if I actually ask anything or give any doubt I wasn't in full accord with them, they were going to get a protection order which meant in his deepest, darkest hour I wouldn't be there to look after him, and neither would my wife – they would prevent us from entering the ward.
"That's such a cruel system I decided to start looking at the proton beam myself."
He added: "We decided to try and sort it out ourselves but now we're refugees almost.
'We're not neglecting our son'
"We can't do anything. The police are after us. The things we want to do to raise the money to pay for the proton beam, they've prevented it now.
"So my son is being treated and he's doing fine. We're very happy with his progress. We're not neglecting him. He has everything he had in hospital."
On Saturday, police acquired an international arrest warrant on the grounds on neglect.
Mr King said that his son's health had not been put at risk by being taken out of hospital.
"We're not neglecting our son, he's in perfectly good health," he said.
"My son is smiling, he's happy, we're doing things as a family. We just want to be left in peace. He's very sick. I just want to get on with his treatment. I'm not coming back to England if I cannot give him the treatment I want, which is proper treatment," he said.