Father's Day is celebrated on every third Sunday of every June. This year, the day falls on 18 June and people in many countries around the world will celebrate fatherhood.
While the UK, US, India, France, Cyprus, South Africa, Netherlands, Greece and Canada celebrate the day on the third Sunday of June, other countries such as Italy (Festa del papa), Portugal (Dia do Pai), Spain (Dia del Padre), Croatia, Bolivia, Honduras, Liechtenstein, Mozambique, Andorra, Angola celebrate it on 19 of March.
Norway, Sweden, Finland, Estonia and Iceland dedicate a day to fathers on the second Sunday of November.
Grace Golden Clayton from Fairmont, West Virginia, is credited with beginning the tradition to celebrate Father's Day in the US. In 1907, a mining disaster killed 362 men in a local town, leaving close to 1000 children orphan. Clayton, who was herself mourning the loss of her father, asked the pastor of a local church to dedicate a day to honour fathers.
To commemorate the special day, IBTimes UK has compiled a list of quotes to honour fathers around the world.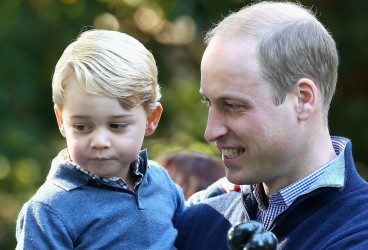 1. "I'm a new father and I take my duties and my responsibilities to my family very seriously and I want to bring my children up as good people with the idea of service and duty to others as very important. But if I can't give my time to my children as well, I worry about their future." — Prince Williams
2. "I pray to be a good servant to God, a father, a husband, a son, a friend, a brother, an uncle, a good neighbor, a good leader to those who look up to me, a good follower to those who are serving God and doing the right thing." — Mark Wahlberg
3. "Fatherhood is a beautiful thing. There's something special about that feeling, knowing that you two as a couple have created something that will always be a reflection of your love and union." —John Legend
4. "As fathers, we need to be involved in our children's lives not just when it's convenient or easy, and not just when they're doing well — but when it's difficult and thankless, and they're struggling. That is when they need us most."— Barack Obama
5. "My approach to life has changed. And everything I did up until this point is really just to have a family and at that point I understood what life is about." —Kanye West
6. "I've done all kinds of cool things as an actor: I've jumped out of helicopters and done some daring stunts and played baseball in a professional stadium, but none of it means anything compared to being somebody's daddy. I made promises in that moment about what kind of dad I wanted to be and I just prayed that he'd live long enough that I could keep them," —Chris Pratt
7. "We could end wars if we just carpet-bombed places with baby-head smell. We'd just be like, 'What are we doing, guys? Come on. Let's lay down our arms. Let's high-five each other to death.'" —Ryan Reynolds
8. "The things that I really cherish are the everyday moments, like sitting around cooking pancakes together on Sunday morning, or getting home after a tough day and my kids come up and give me a hug and remind me what's really important," — Hugh Jackman
9. They're most important in my life. Family is a wonderful thing, but it doesn't mean you can't do other stuff in your life. In fact, having a family makes whatever other thing you have that much richer." — Ben Affleck
10. "I am not ashamed to say that no man I ever met was my father's equal, and I never loved any other man as much." — Hedy Lamarr