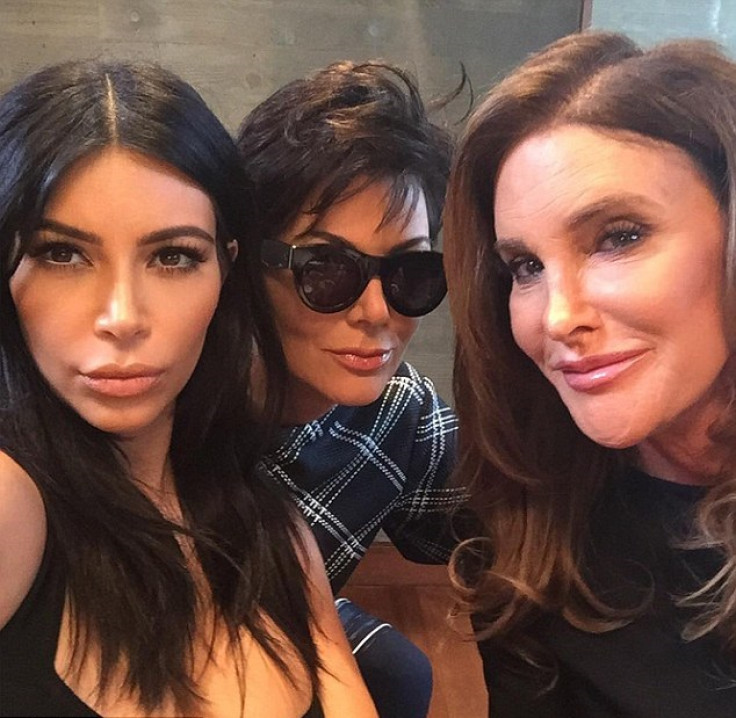 Kim Kardashian-West has denied she ignored step-father Caitlyn Jenner on Father's day. She made the comments after the 66-year-old had revealed that she spent the day watching TV with youngest daughter Kylie, who she claimed was 'the only one' to invite her over.
The celebration was in stark contrast to last year when the whole family gathered for the occasion and it didn't go unnoticed by Caitlyn. In a message on Kylie's Snapchat she said: "OK there it is, my favourite daughter right now. Why? Cause it's Father's Day and she's the only one that invited me over and what are we doing? Watching the NBA finals."
Kim turned to her subscription based app and website kimkardashian.com to refute the claims that Caitlyn was 'sad and lonely' and had been 'abandoned' by the family since transitioning.
"Not true," the 35-year-old said in a video on her "'I actually invited Caitlyn to Father's Day with Kanye and I at Nobu for brunch, and Caitlyn was busy. So then Caitlyn went over to Kylie's."
Since Caitlyn announced she was to undergo gender reassignment to become a woman, she publicly said that Kim had been the most supportive member of the family throughout her journey. However after Caitlyn appeared to slam her former wife Kris Jenner in her Vanity Fair interview, the momager's children seemed to have turned their back on the former Olympic athlete.
"Things aren't going great with Caitlyn," a family insider told People at the time. "The way she threw Kris under the bus so badly [in the Vanity Fair cover story last year] made the girls so mad. Khloé still isn't in a good place with her and hasn't really forgiven her. The whole situation made them so close to their mom," the source added.
While Kylie and Kendall both shared throwback photos with their father to mark the holiday, step-sisters Kim, Kourtney and Khloe did not send a Father's Day message to Caitlyn on social media.
While the three sisters have appeared to struggle with their relationship with Caitlyn, daughter Kylie has said she is closer to Caitlyn than she was to Bruce. During an appearance on The Ellen DeGeneres Show: "I like her better than Bruce. We talk about make-up and clothes. We bond a lot more, but not only that. I feel like there's not a huge secret in the family. I feel like there was always this big secret.
"Honestly, like I'd be with my girlfriends sometimes and he would come in and be like, "what are you guys talking about?" and kind of joke around and I knew there was something, but now I feel like we hang out a lot more there's no secrets."
Kim's comments come as it was revealed that Caitlyn's E! docu-series show has been cancelled after just two seasons. The 66-year-old reality star clarified rumours that were circulating about the television series' via her Twitter profile on Tuesday (16 July).
She wrote to her 3.9 million Twitter followers: "After 2 amazing seasons of @IAmCait, it's time for the next adventure. Thank you E! & thank you to the best girlfriends I could ask for!"
During thecandid segment on her website, Kim also denied rumours she has had butt implants, is divorcing Kanye West, and that she's a secret agent.