The FBI has arrested at least 24 people from 13 countries in a sting operation targeting the illegal trafficking of credit card information, also known as carding.
Following the two-year US-led investigation known as Operating Card Shop, 24 named suspects - and four more who remain at large - are thought to have stolen credit card and banking information from victims by use of software such as computer trojans.
All of the arrested are men aged from 18 to 25, with some facing up to 40 years in prison if convicted of fraud-related charges.
The men are said to have had access to more than 411,000 compromised bank and credit card accounts, and US officials said the operation had prevented losses of $205m (£131m).
The FBI also notified 47 companies, government organisations and educational institutions that they had been compromised by the carders.
Of the 28 charged, 13 are from the US, six from the UK, two from Bosnia, one Bulgaria, Norway and Germany, and two from undisclosed locations.
This revelation comes on the same day as the UK-based Operation High Roller uncovered a $78m global financial fraud ring targeting at least 60 banks in Europe, the UK and the Americas.
Undercover operation
In June 2010, the FBI set up an undercover carding forum called Carder Profit, aimed at luring carders in to buy, sell and exchange goods and services relating to carding.
To gain access to the site, carders had to either pay or be recommended by two current members, and a valid email address was required; all information given by members - including their computer IP address which can be used to locate them - was collected by the FBI.
The FBI said in a statement: "the defendants are charged with engaging in a variety of online carding offenses, in which they sought to profit through, among other means, the sale of hacked victim account information, personal identification information, hacking tools, 'drop' services and other services that could facilitate carding activity."
Manhattan US Attorney Preet Bharara said: "As the cyber threat grows more international, the response must be increasingly global and forceful. The coordinated law enforcement actions taken by an unprecedented number of countries around the world today demonstrate that hackers and fraudsters cannot count on being able to prowl the Internet in anonymity and with impunity, even across national boundaries.
"Clever computer criminals operating behind the supposed veil of the Internet are still subject to the long arm of the law."
Remote access Trojans (RATs)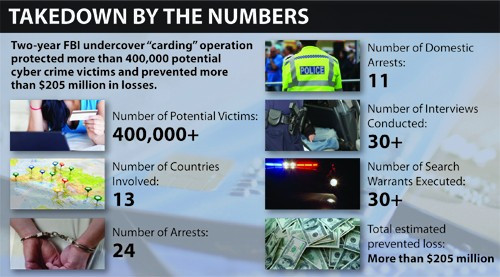 Those arrested include Michael Hogue, 21, aka xVisceral, who allegedly specialised in creating remote access trojans (RATs) that enabled attackers to take full control of a victim's computer, including the webcam and giving him the ability to log keystrokes.
Hogue sold his trojans for around $50 each and faces up to 20 years in prison if convicted.
Mark Caparelli, 20, aka Cubby is accused of being a specialist in conning Apple out of warranty replacement products. Facing 30 years in prison, Caparelli would steal credit card numbers and computer serial numbers to defraud Apple by having replacement products sent to him after making fake claims on the stolen warranties.
One of the more interesting suspects is Mir Islam, 18, aka JoshTheGod who faces 25 years, and in addition to being in possession of more than 50,000 stolen card details, he was also a member of hacking group UGNazi and founder of a card trading forum called carders.org.
UGNazi recently claimed to have attacked a number of high-profile web businesses, including Twitter.