Federer handed major boost in chase for World No 1 ranking as Rafael Nadal confirms injury setback
KEY POINTS
Nadal pulls out of the Swiss Indoors with a knee injury.
Federer is currently 1950-points behind Nadal in the rankings.
Rafael Nadal has pulled out of the Swiss Indoors in Basel after picking up a minor knee injury during his run to the finals of the Shanghai Masters where he lost to Roger Federer.
The Spaniard had hinted after the game that he could skip the tournament in Basel after confirming the injury, and he has now confirmed his withdrawal. Nadal is expected to return to action at the Paris Masters that begins on 30 October as he continues his battle for the year-end number one ranking with Federer.
The 31-year-old has played 75 matches thus far this campaign and after a hectic two weeks in China, which saw him win the event in Beijing and make the finals at Shanghai, he believes it is time for a rest. He confirmed that the decision was being taken after consulting with his doctor in Spain.
"I sadly announce that I have to pull out of The Swiss Indoors Basel, after seeing my doctor in Spain just after landing from Shanghai," Nadal communicated via a statement on his official Facebook page.
"I am suffering from an overstressing of the knee and the problems where already present at the tournament in Shanghai which now forces me to take a time off on advice of my doctor
"After two great weeks in China, with the title in Beijing and the final in Shanghai, it is time for some rest," the 16-time men's singles Grand Slam champion explained.
"I want to send a special message to the many tennis fans in Switzerland which have always shown great support and respect also on my matches with Roger. Hope to see you next year."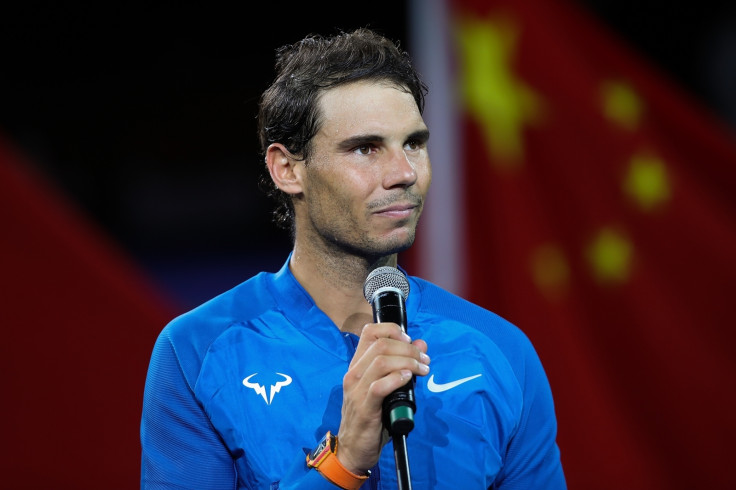 The world number one's withdrawal from the Basel event will hand Federer – the current number two – an advantage in their race to finish the year as the top-ranked men's singles player. The Swiss ace is currently 1960-points behind Nadal and cut the gap to 1460 if he wins in his homeland.
After the Basel event, there will be 1000-points up for grabs at the Paris event, while another 1500 on offer at the ATP Finals in London. Federer still has a good chance to overtake his long-time rival. But the Swiss star is also yet to confirm if he will play both the events leading up to the London tournament after suggesting that he could skip either one or both after his win in Shanghai.