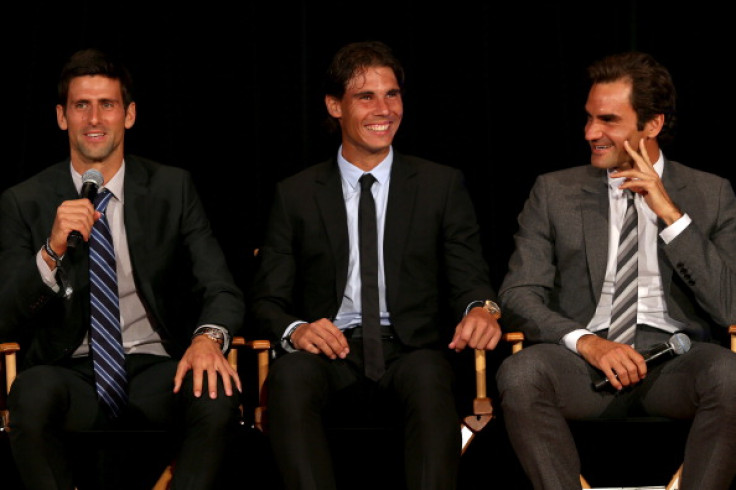 Novak Djokovic has paid tribute to Roger Federer and Rafael Nadal and labeled them an 'inspiration' not only to him but for millions of athletes around the world.
The Serbian world number two has commended the duo on their strong comeback after struggling with injuries during the 2016 season. Federer cut short his season in July last year and spent six months on the sidelines with a knee injury, while Nadal ended his campaign in October after struggling with a wrist injury for most of the year.
The Swiss ace and the Spaniard returned to action at the start of the year and have been the two best players by some distance. Federer has won three of the four tournaments he has played including an 18th Grand Slam title at the Australian Open in January. Nadal, meanwhile, has made six finals in the nine events he has entered and captured three titles.
"Of course. Not only for me but for millions of athletes over the world. The fact that Rafa and Roger got injured and had tough seasons, and that they came back winning Slams, is really impressive," Djokovic was quoted as saying by Tennis World USA. "They are inspirations for their commitment, their consistency in results and the way they enjoy playing."
"Roger is the perfect example because he is 35, has four children and plays at the highest level. He is still there and won all the big titles this year. Hat off! Same thing for Rafa. Even if he was a little bit obscured by Roger's results, you need to give him a lot of credit for what he did.
Djokovic, on the other hand, is going through a mid-career slump and has won just one title – the Doha Open in January – since winning the Montreal Masters in August last year. The Serbian showed some signs of form when he reached the finals in the Rome Masters last week (21 May). He does not put himself in the same boat as the two legends of the current era, but is confident that he can also make a comeback and get back to winning titles.
"Many people thought [Nadal and Federer] were done last year and now came back. However I am different and I can't compare to them. I only try to be at the best of my abilities and to find ways to win. They won great titles again and I can do it too," the Serbian added.
Djokovic and Nadal are currently one win into their 2017 French Open campaign. The former is the defending champion, while the latter is looking for his 10th title at Roland Garros. Federer has opted to skip the event to focus on the upcoming grass and hard court events after the second Grand Slam of the year.