Fed's Yellen Positive Sending Dollar Index to 20-Day High
The US dollar rallied against most majors on 15 June as the Federal Reserve Chairwoman Janet Yellen said the overall view of the US economy is positive, sending the USD index to a 20-day high.
"There is some improvement in long-term unemployment, but it remains a grave concern," Yellen said.
The dollar index, the gauge that measures the strength of the greenback against the currencies of the six largest trading partners of the US, had fallen to a two-month low of 79.75 early this month driven by the 18 Jun Federal Open Market Committee minutes, that highlighted the headwinds the US economy was facing.
The 25 June GDP data that showed the economy contracted much more than expected in Q1 underpinned the Fed's observations but the situation reversed with a much stronger than expected non-farm payroll data on 3 July.
At 15:00 GMT, the USD index traded at 80.40, up nearly 0.3% from the previous close.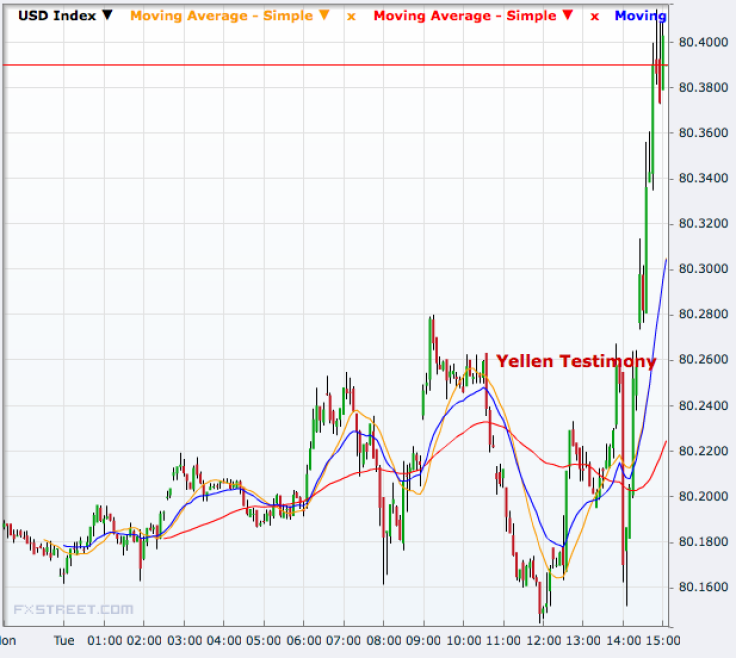 USD/CAD rose to 1.0764 from 1.0712 at Monday's close and USD/JPY rallied to 101.66 from 101.32.
EUR/USD fell to a near three-week low of 1.3561 from 1.3606 when Yellen started speaking. At the low, the pair was down about 0.4% from the previous close.
GBP/USD only pared a very small portion of its gains on Monday as the UK inflation data overpowered the slight hawkish tilt of the Federal Reserve as the price pressures in the UK are deemed strong enough to lead to a sooner rate hike there.
The pair that rallied to 1.7192 from 1.7062 following the UK data dropped to 1.7135 following the Yellen testimony.
© Copyright IBTimes 2023. All rights reserved.