'Femen' Stage Naked Protest Against Putin in Moscow [PHOTOS]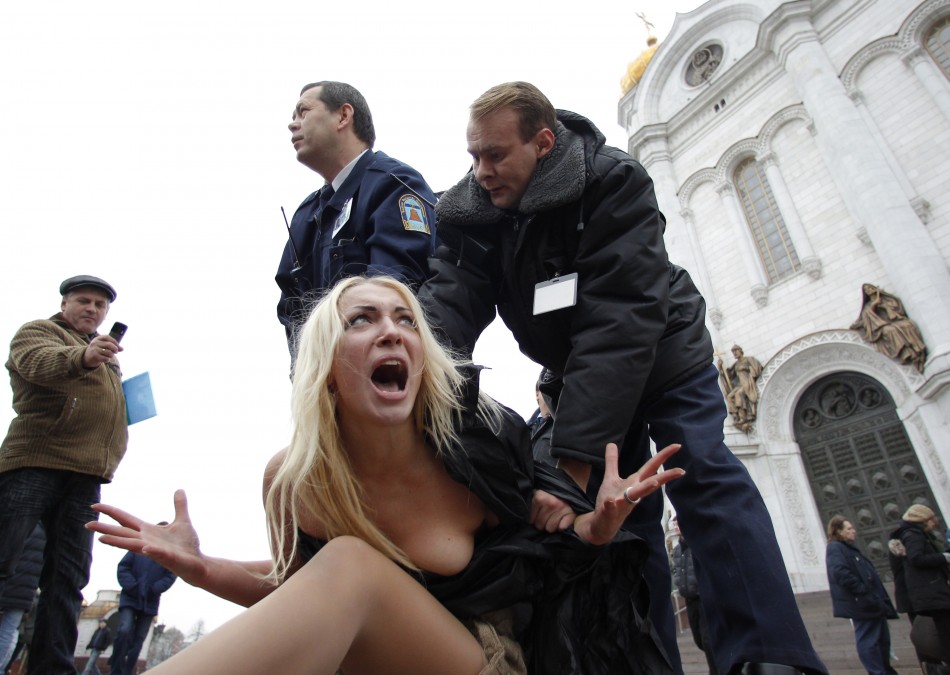 Ukraine's female feminist group Femen group have staged another bare-breasted protest, this time at Moscow's symbol of religious revival, Christ the the Saviour Cathedral, just a stone's throw from the Kremlin.
The feminist group branded signs reading "God, get rid of the Czar!", with clear reference to Vladimir Putin, whose party have been accused of vote-rigging at the Russia's parliamentary elections.
In an interview with Radio Liberty, the women explained they wanted to express "solidarity" with the opposition movement that will take the street Saturday for a big rally.
Police agents intervened within 30 minutes and took the girls into custody, though it appears they were released soon afterwards.
Last week, five members of the group staged a topless protest outside the Olympic Stadium in Kiev ahead of Euro 2012 draw. The protest was against what they say are attempts to legalise prostitution during the 2012 European Championship held in Ukraine and Poland.
Police arrived at the stadium within five minutes of the protest starting and dragged the woman into police vehicles and drove away.
Femen has established an international reputation for staging semi-naked protests in Ukraine and abroad.
© Copyright IBTimes 2023. All rights reserved.