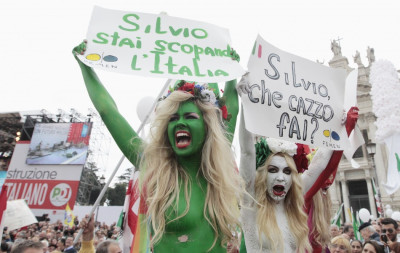 Tens of thousands of Italian opposition activists demonstrated in central Rome on Sunday to call for the resignation of embattled Prime minister Silvio Berlusconi.
Opposition protesters were bolstered by the presence of Ukrainian feminist activists Femen, who also demonstrated topless in the Vatican to protest against the Roman Catholic Church's "misogynist policies".
Berlusconi is set to face a confidence vote in parliament - the 54th of his career - on Tuesday amid Italy's spiralling debt crisis.
One Femen activist was able to escape the crowds and begin a very vocal protest in St Peter's Square, central Rome before being arrested by police (see video).