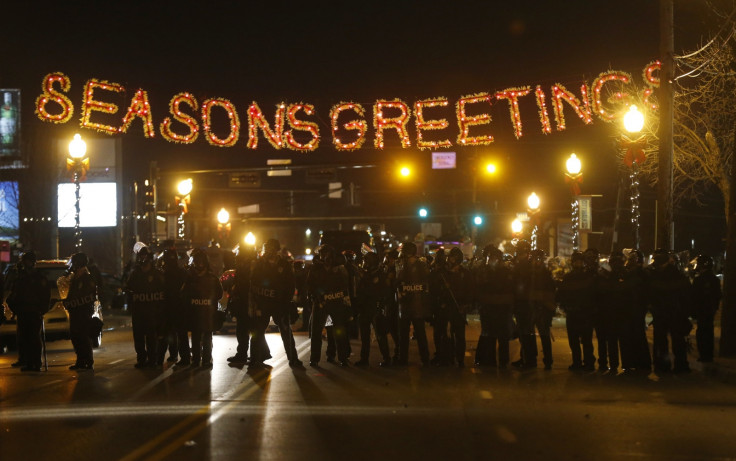 In the wake of the grand jury decision being announced not to indict police officer Darren Wilson after he shot dead teenager Mike Brown, protestors have taken to the streets of Ferguson and across the US.
The grand jury decision was announced just before 9pm local time in Ferguson, Missouri (around 2.45am GMT) and since then the streets of the St Louis suburb have come to resemble a war zone with riot police battling protestors as well as looters.
Cars and buildings have been set on fire, reports suggest up to four people have been shot and the police are struggling to retain control of the situation.
Because events are happening at such a fast pace, trying to keep on top of what is happening can be difficult, so we've collated a list of Twitter accounts which offer comprehensive live coverage of what is happening on the ground.
---
Antonio French (@AntonioFrench)
The St. Louis Alderman Antonio French has risen to national prominence following the killing of Mike Brown. A voice of calm and reason amid the chaos which ensued following the 9 August shooting, French was among those who were arrested by police during the original protests.
Operation Ferguson (@OpFerguson)
While certain members of Anonymous and their associated Twitter accounts have only caused more problems in Ferguson, the dedicated OpFerguson Twitter account has been more restrained in its postings and has typically been ahead of the curve when it comes to what is happening on the ground.
DeRay McKesson (@deray)
DeRay McKesson is an activist who helps operate the newsletter and website Words To Action. DeRay is not from Ferguson. When he saw the news about the Mike Brown shooting, he got in his car and drove 400 miles from Minneapolis to the small town to show his solidarity with the family of Brown, and has since become one of the most prominent voice on social media relating to the Ferguson protests.
Jon Swaine (@jonswaine)
The Guardian's man in Ferguson from the beginning. Swaine provides comprehensive coverage of what is happening in Ferguson without bias or agenda, something which is not easy to find.
Shaun King (@ShaunKing)
Described variously as an internet maverick, activist, author and journalist, Shaun King has become one of the most important voices to emerge in Ferguson following the shooting. King wears his heart on his sleeve, pulling no punches in his claims that Brown was "murdered in cold-blood" by Wilson. One of his investigations into inconsistencies about how close Brown was to Wilson when shot has been vindicated.
St Louis County PD (@StLCountyPD)
The official Twitter of the St Louis County Police Department may not be what many people are looking to hear from at the moment, but it does provide a alternative narrative to what is happening in Ferguson. However, as you can see in the tweets above, even it can't be trusted to give an accurate description of what it happening out there.
Bassem Masri (@bassam_masri)
Independent journalist Bassem Masri has been providing live video streams of events in Fergusonvia his UStream channel while updating people on events via Twitter. On Tuesday, Masri reported that police had seized his main phone, shutting down his stream.
St Louis Post Dispatch (@STLToday)
The Twitter account of the local newspaper in St. Louis which has numerous reporters on the ground in Ferguson including Nicholas J.C. Pistor, Valerie Schremp Hahn Samantha Liss, Koran Addo and Joe Holleman.