Key Information
Violent protests erupted in Ferguson after a Missouri grand jury decided not to charge Darren Wilson, a white police officer, who shot dead an unarmed black teenager Michael Brown.
Police said dozens buildings and vehicles were set on fire by rioters and more than 150 gunshots reported. At least 29 people have been arrested.
Brown, 18, was shot dead in Ferguson on 9 August stoking widespread protests.
Since 20 August, a grand jury comprising 12 members - nine white and three black members - were holding regular sessions examining the evidence.
All times are in GMT.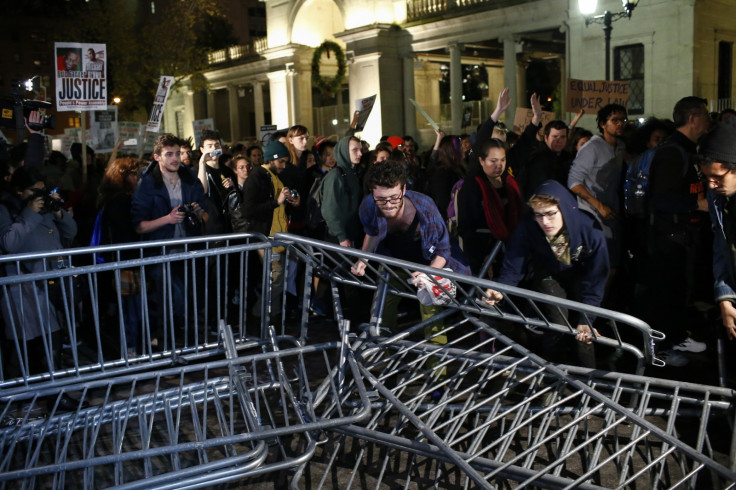 09:00 - Our live coverage of Ferguson riots ends here. For updates, follow IBTimes UK on Twitter.
08:50 - A St Louis County Police Officer has been shot amid the protests following a grand jury decision not to indict Darren Wilson for the shooting of Mike Brown.
Read more here: Ferguson Protests: Police Officer Shot in Wake of Darren Wilson Indictment Decision
08:48 - A CNN journalist has been hit by an object while reporting live from Ferguson.
Reporter Sara Sidner later tweeted she has a bump on the head but is otherwise fine
08:07 - The New York Times reports that Michael Brown's stepfather Louis Head encouraged Ferguson demonstrators to light fires in protest against the grand jury decision.
The newspaper wrote:
Mr. Head then turned and began to yell.

"Burn this down!" he repeatedly shouted, inserting an expletive.

The crowd then began to roar.
08:00 - In this photo: police watch as vehicles from a car dealership burn during rioting.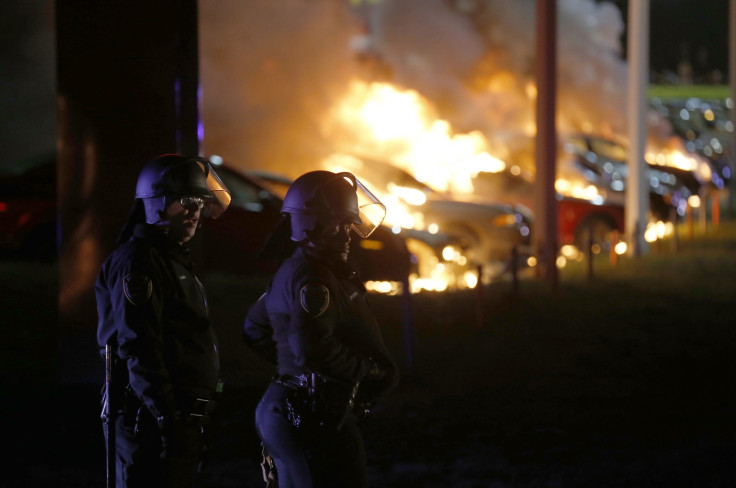 07:56 - St. Louis Police tweets:
07:55 - Read the full transcript of the testimony given by Officer Darren Wilson to a St Louis County grand jury regarding the shooting of Mike Brown here:
Ferguson Protests: Full Text of Darren Wilson's Grad Jury Evidence Following Mike Brown Shooting
07:51 - Police chief Belmar says 29 people have been arrested so far.
07:50 - Police chief Belmar says they were not warned of what the verdict was going to be before the grand jury released it to the public.
He was answering a journalist asking if they were given notice that Darren Wilson was not going to be charged, in order to prepare for large demonstrations.
07:46 - Police Chief Belmar says he is "heartbroken" by the violent protests that he says are tearing the fabric of Ferguson community apart.
07:43 - Belmar says they were hoping for peaceful demonstrations but violence escalated soon after the ruling was made public.
"I didn't see a lot of peaceful protests out there and I'm disappointed by that," he says
"What I've seen tonight is probably much worse than the worst night we ever had in August."
"I personally heard at least 150 shots fired".
07:42 - Police chief Jon Belmar says at least a dozen buildings have been set on fire most of which are lost.
07:37 - St. Louis County Police chief Jon Belmar is addressing the press.
07:34 - The Guardian's Paul Lewis tweets he and other reporters have been attacked by a gang in Ferguson.
07:30 - Robert Cohen, a photojournalist for the St. Louis Post-Dispatch tweets:
07:27 - In this photo police officers block a Highway 580 off ramp to protesters.
07:20 - Police are expected to brief the press on the protests within the next 15 minutes.
07:15 - The St. Louis Police tweets that an officer who was shot and wounded in the suburb of University City is expected to recover.
07:00 - I'm handing over the reins to my colleague Umberto to continue the live coverage.
06:40 - Read Wilson's entire testimony here.
06:30 – Here's a scene of a raging fire in Ferguson's W Florissant Street. Police officials and fire-fighters are unable to bring the situation under control.
06:25 – A police officer has been shot in University City, a suburb of St Louis and the officer's condition is still unknown. At this point in time, it's not clear whether this incident is linked to the ongoing Ferguson protests.
Protests are rife across Ferguson with many onlookers describing the situation as a "war zone".
06:20 – Police order media personnel to leave Ferguson immediately. Through loud-speakers, officers are instructing reporters and other media personnel to evacuate as the situation continues to deteriorate.
The Guardian's Washington reporter Paul Lewis tweets this.
06:15 – According to the KSDK News, officer Wilson has released a statement to his supporters via an anonymous source. His statement reads as follows.
To all of the pro Officer Wilson Supporters -
I would like to thank you all for standing up for me during this stressful time. Your support and dedication is amazing and it is still hard to believe that all of these people that I have never met are doing so much for me. I watched the CNN video we recorded at the rally on Saturday and it brought tears to my eyes.
All of you are simply amazing, and I don't know how to thank you all enough. I wish I could attend meet you, hug you, and personally thank you for all of your continued support, however, due to my and my families safety I am unable to. Please don't give this letter to any media or post it where they can see it. Relay the message of thanks to all and keep this letter private until the investigation is complete.
I want you all to know that I do get updates on the amount of support. Unfortunately, I don't get to see all of the comments made through social media, but overall messages are relayed to me.
Thank you from the bottom of my heart, and know that I would do the same for any of you.
Also please keep my family in blue in your hearts and prayers, they have all made a sacrifice to their own lives in order to work the excessive hours through the heat and rain to ensure that the riots and protests in Ferguson were as safe as they could be.
Thank you,
P.O. Darren Wilson
06:10 – Scores of protesters are blocking main road junctions in Oakland, California and Los Angeles.
06:00 – Authorities have released documents running up to nearly 5,000 pages which include Wilson's testimony to the jury.
05:40 - The Washington Post's journalist Chico Harlan tweets this Wilson statement to the jury.
05:30 - Widespread protests taking place in several parts of the US including Seattle, Los Angeles, Chicago, Washington and New York over jury's verdict.
05:25 – More shops are being vandalised by mobs in Ferguson. With police struggling to contain the situation, fire-fighters are unable to reach the shops which are set ablaze in certain streets.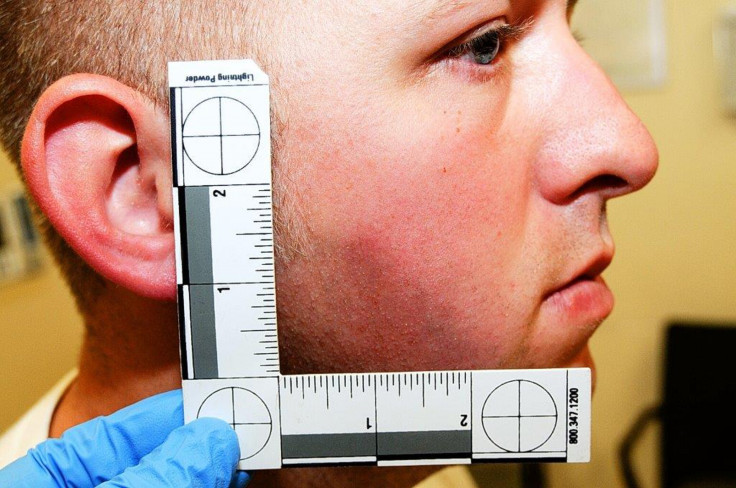 05:20 – Inbound flights in St Louis International Airport affected, though aviation authorities insist the airport is operational.
05:15 – Wilson's lawyers quoted the policeman as saying: "Officer Wilson followed his training and followed the law. Moving forward, any commentary on this matter will be done in the appropriate venue and not through the media." The legal team said Wilson thanks anyone "who stood by his side".
05:12 – St Louis County police tweets of "heavy automatic gunfire".
05:10 –According to documents released by St Louis County Prosecuting Attorney Robert McCulloh, Wilson told the grand jury that Brown punched him in the face.
Wilson said: "I felt that another of those punches in my face could knock me out or worse.... I've already taken two to the face and I didn't think I would, the third one could be fatal if he hit me right."
05:00 – Federal aviation authorities have announced a no-fly zone in Ferguson in order to "provide a safe environment for law enforcement agencies". A similar decision declared during the previous unrest was widely seen as a move to curb media coverage.
04:50 – Missouri governor Jay Nixon releases statement just before the judgment. Here is the statement in full.
"While the 12 men and women on the St. Louis County grand jury have concluded their work, the rest of us have much more work to do in order to use the lessons we have learned these past four months to create safer, stronger and more united communities."
"As we continue to await word on the U.S. Justice Department's ongoing investigation, I urge all those voicing their opinions regarding the grand jury's decision to do so peacefully. I also urge everyone to continue working to make positive changes that will yield long-term social, economic and spiritual benefits for all our communities."
"My commitment to the people of the region and state is this: I will do everything in my power to keep you safe and protect your right to speak. We must also make a commitment to one another: to trust more and fear less, to hold ourselves to a higher standard of personal responsibility and mutual respect, and to keep working to extend the promise of America to all our citizens.
It is my continued hope and expectation that peace will prevail. The world is watching. I am confident that together we will demonstrate the true strength and character of this region, and seize this opportunity to build a more just and prosperous future for all."
04:58 – Looting reported in Ferguson as many buildings are being broken into.
04:46 – About 50 protesters are also demonstrating outside the White House in Washington.
04:45 - Brown's family releases statement shortly after judgment. "We are profoundly disappointed that the killer of our child will not face the consequence of his actions."
"While we understand that many others share our pain, we ask that you channel your frustration in ways that will make a positive change. We need to work together to fix the system that allowed this to happen."
"We respectfully ask that you please keep your protests peaceful. Answering violence with violence is not the appropriate reaction. Let's not just make noise, let's make a difference."
04:40 – President Barack Obama speaks from the White House urging demonstrators to accept the verdict regardless of the outcome. Exhorting the campaigners to peacefully protest, the president said: "There are Americans who agree with [decision]. And there are Americans who are deeply disappointed, even angry. It's an understandable reaction. But I join Michael's parents in asking anyone who protests this decision to do so peacefully."
"Let me repeat Michael's father's words. 'Hurting others or destroying property is not the answer. No matter what the grand jury decides, I do not want my son's death to be in vain. I want it to lead to incredible change, positive change, change that makes the St Louis region better for everyone.'"
"Michael Brown's parents have lost more than anyone. We should be honouring their wishes."
Watch Obama's full address here.
04:30 - Tear gas and shots fired in Ferguson following the verdict.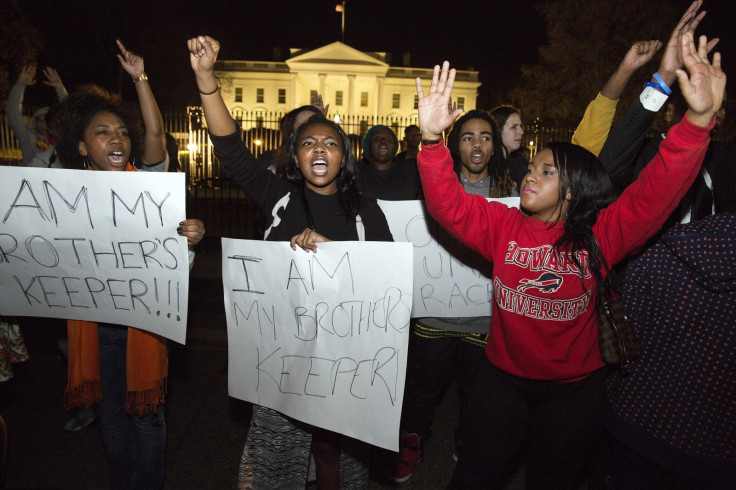 Welcome to IBTimes UK's live coverage of all events surrounding Ferguson shooting incident.