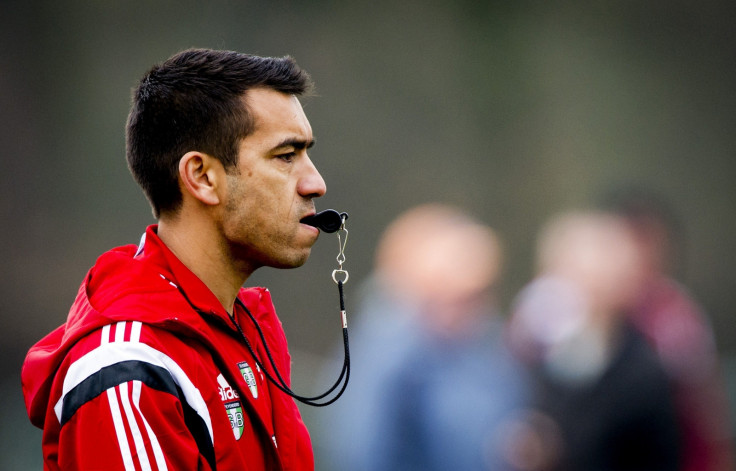 Feyenoord manager Giovanni van Bronckhorst says he does not need to rest any players against Manchester United on Thursday (15 September) despite a huge league meeting with PSV Eindhoven three days later.
United begin their Europa League group campaign at the De Kuip having left a number of first-team players back in Manchester. Captain Wayne Rooney was among six players not named in the travelling squad .Antonio Valencia, Luke Shaw, Jesse Lingard, Henrikh Mkhitaryan and Phil Jones were also left out, with some being rested and others paying the price for poor performances in the 2-1 defeat to Manchester City on Saturday.
Van Bronckhurst's side, meanwhile, boast a clean bill of health and the former Arsenal and Barcelona defender says Sunday's clash between the Eredivisie's top two sides won't have a bearing on his selection.
"Other than the long-term injured, I have a fit group to choose from," Van Bronckhorst told a press conference. "Everyone can take part in the final training session on Wednesday evening and on Thursday I don't need to take account of the match we have against PSV on Sunday. And I won't.'
Van Bronckhorst has also suggested he will take a more conservative approach on Thursday against Mourinho's side, insisting Feyenoord's priority will be taking at least a point from the game.
'I call on my players to enjoy these matches, but first and foremost we want to get the right result. That's a great challenge for me and my players, because we are playing against one of the best sides in Europe and maybe the world. You always have to adjust against a team like Manchester United.
"Not so much the system but we will have to be patient and not make any mistakes, because you will get punished at this level. Playing compact and not giving your opponents any space will be important on Thursday evening. And we will have to take the chances we get. It's going to be tough, but certainly not impossible."