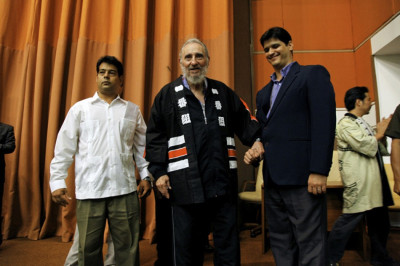 Former Cuban leader Fidel Castro became the latest world leader to show respect for another country by wearing one of their traditional outfits.
Castro wore a happi coat during his 1 March meeting in Havana with Japanese Peace Boat activists, who travel around the world to promote nuclear disarmament.
In addition to the exchange of outfits being a mark of respect, it also creates some good photo opportunities, as the normally suited (and booted) leaders ditch their conservative attire for more extravagant costumes.
International Business Times UK takes a look at other outfits worn by leaders across the world.