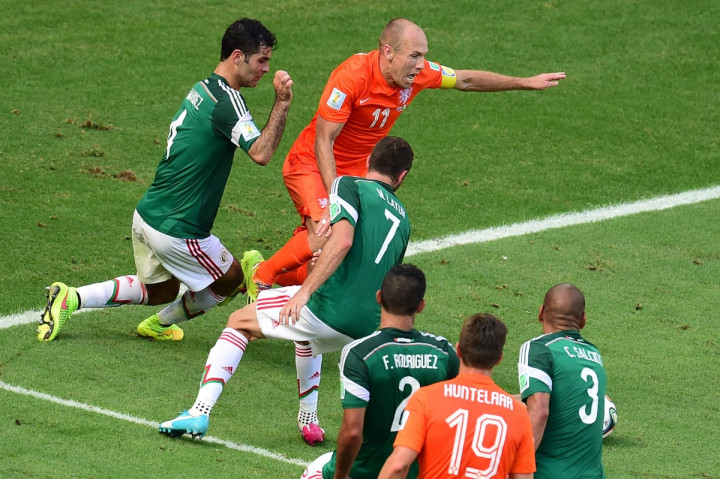 The Dutch football federation (KNVB) insists Arjen Robben was misquoted following comments from the winger suggesting he dived during Netherlands' 2-1 win over Mexico.
The Bayern Munich star won an injury time penalty that Klaas Jan Huntelaar converted to put his side through to the quarter-finals of the World Cup.
Robben was at the centre of a number of additional penalty incidents throughout the game and Mexico manager Miguel Herrera accused the winger of committing three dives following Sunday's game in Fortaleza.
Robben responded by insisting he did not dive to win the decisive penalty, but admitted he had tried to deceive the referee in earlier incidents.
"The one at the end was a penalty, I was fouled," Robben was quoted as saying by Dutch television channel NOS. "At the same time, I have to apologise as in the first half I took a dive and I really shouldn't do that.
"That was a stupid, stupid thing to do but sometimes you're expecting to be struck and then they pull their leg away at the last minute."
However, the Dutch FA have moved quickly to address Robben's supposed confession.
In a statement the KNVB said: ""KNVB is unpleasantly surprised by publications in the media about the Dutch penalty in the match versus Mexico. Media have interpreted statements from Robben in a Dutch post match interview completely wrong.
"In a studio interview with Dutch broadcaster NOS, the forward stated that the decision of the referee to give a penalty in the second half of the game was perfectly right.
"However, in the same interview Robben referred to two situations earlier in the match [first half], when he was brought down.
"The striker stated that in one of those situations he should have been granted a penalty, but that in the other case he was falling too easily."
Robben is expected to make a further comment on the developing situation following training in Rio de Janeiro on Monday afternoon. However the 30-year-old could still face retrospective punishment for admitting he dived.
The winger's offence relates to article 57 of Fifa's regulations that came into play after his admission of guilt, allowing world football's governing body to "sanction those who violate the principles of fair play."