Fifa World Cup 2014: Ten Shocking Moments In The Tournament's History
How Does Luis Suarez's Bite Compare With Zidane's Headbutt Or Maradona's Hand Of God?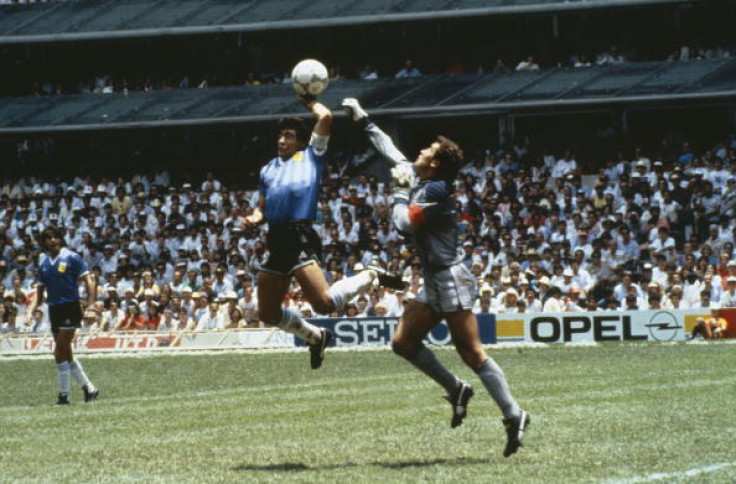 Uruguay striker Luis Suarez has received a four-month ban from all football-related activity for biting Italy defender Giorgio Chiellini.
But the Uruguayan is not alone in causing outrage at a World Cup.
IBTimes UK looks at ten of the most shocking moments in the football tournament's history.
Pele's mauling
Pele went to the 1966 World Cup as the world's biggest star and became the first player to score in three World Cups. But the Brazilian was happy to see the back of England, after one-by-one Bulgaria, Hungary and Portugal resorted to hacking the striker to pieces.
Suarez hand ball
Luis Suarez (remember him?) was willing to do anything to get Urugauy to the 2010 World Cup semi finals at the expense of Ghana, including pretending to be a goalkeeper. With the score at 1-1 Suarez ­deliberately handled on the line to stop a Ghana winner and was spotted celebrating after being sent off.
Zidane headbutt
The Frenchman endured a whirlwind cameo in the 2006 final. After converting a sublime penalty, Zidane later attempted burying his head into Marco Materazzi's chest after the Italian defender offended his sister. Zidane later said he would "rather die" than apologise for the attack.
Maradona 'Hand of God'
There were many shocking aspects to Diego Maradona's 1986 Hand of God: Peter Shilton's mobility, Steve Hodge's scythed clearance and of course the Argentine's clenched fist itself. All conspired to besmerch England and immortalise Maradona in Scotland.
Patrick Battiston 'decapitation'
The last execution in France by guillotine was back in 1977, something German goalkeeper Harald Schumacher clearly had not been told going into his nation's match against Les Bleus. After a ball had been played through on goal, Schumacher appeared to jump directly into Battiston, knocking him unconscious and later into a coma.
Voller vs Rijkaard
Italia 90 will be remembered for Gazza's tears, Nessun Dorma and Frank Rijkaard's spit dangling from Rudi Völler's hair. A long feud ensued between the pair after the Dutchman twice spat at the West German, once after the pair had been sent off.
Andrés Escobar murder
Although technically not happening at the 1994 World Cup, nonetheless Columbia defender Andrés Escobar's murder for scoring an own goal ranks as one of the most brutal acts of 'vengeance' in sporting history. Escobar is still mourned in his home nation.
Rivaldo
Preparing to take a corner for Brazil, the mercurial Rivaldo took a 'savage blow' to the leg from a ball when Hakan Unsal kicked it to him. When the forward went down clutching his face instead, the Brazilian was fined £5,180 for feigning injury.
De Jong karate kick
Nigel De Jong is known to sometimes put the proverbial boot in and very almost ended up with Xabi Alonso's rib cage on the end of his foot after his notorious tackle in the 2010 World Cup final. The referee, who only booked De Jong, later admitted he should have sent off the Dutchman.
Battle of Nuremberg
When Portugal and the Netherlands collided in Nuremburg in 2006 - later dubbed the The Battle of Nuremberg - Russian referee Valentin Ivanov issued a FIFA World Cup record, four red cards and 16 yellow cards. Fifa president Sepp Blatter later said Ivanov should have given himself a yellow card for his poor performance during the match.
© Copyright IBTimes 2023. All rights reserved.