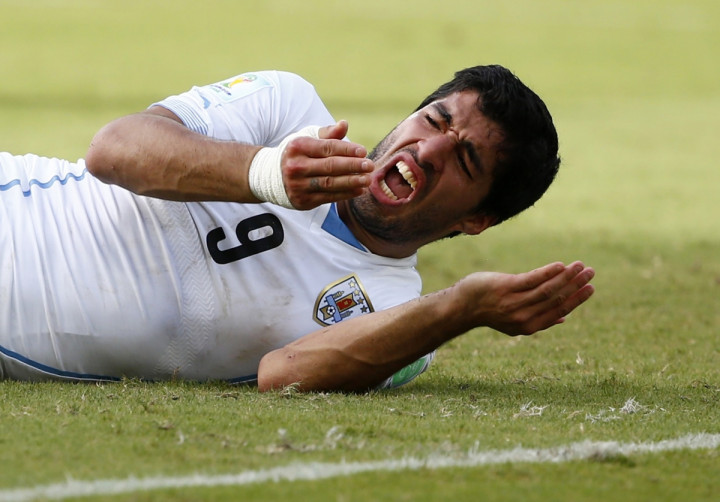 Controversial Uruguay striker Luis Suarez is facing the possibility that his sponsors may bite back after TV pictures appeared to show him sinking his teeth into Italy defender Giorgio Chiellini's shoulder in the game between the two countries at the World Cup.
Poker firm 888 has already come out and said it will be reviewing its sponsorship with the Liverpool frontman.
The gambling group took to Twitter to make its announcement, tweeting: "Following recent allegations made against Luis Suárez, we are reviewing our relationship with him. We will not tolerate unsporting behavior."
Suarez has only been officially involved with 888 Poker -- which one Twitter user wittily dubbed 'ate, ate, ate' after his latest biting incident -- for five weeks. But it looks like his affiliation could be reviewed.
Another of Suarez's sponsors, German sportswear giant Adidas, told IB Times UK that for now, it's business as usual with regards to the Uruguayan.
"Obviously at the moment, Adidas is aware of the situation and we're waiting to hear what the outcome of the Fifa investigation into the incident is, and at that time we'll then make a decision with regards to Luis," said an Adidas spokesperson.
Adidas gave no indication as to how they would handle Suarez if Fifa decides he is innocent, saying "It's difficult for us to say [what will happen with his sponsorship deal]. Until we see the findings in the report, we can't really make a comment."
Football's governing body Fifa has opened an investigation into the incident, with some fans calling for a hefty ban for the striker.
During his time playing in the Netherlands for Ajax, he was handed a seven-game ban after he bit PSV Eindhoven midfielder Ottman Kakkal mid-game in 2010.
Three years later, he chomped his way to a 10-match ban after he developed a taste for Chelsea defender Branislav Ivanovic.