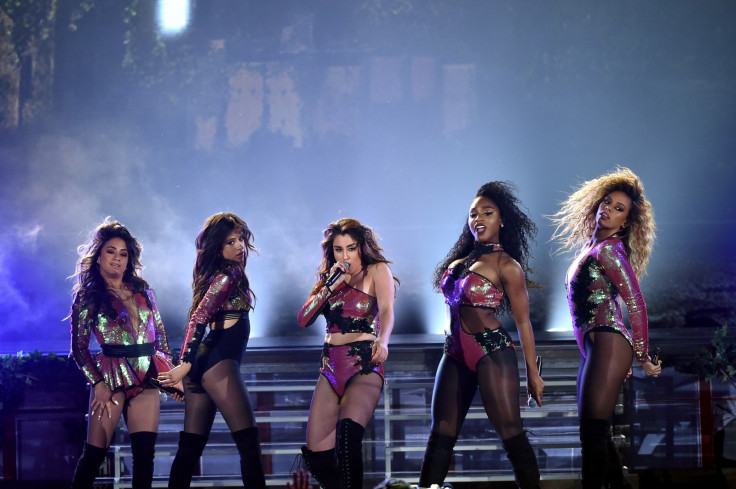 Fifth Harmony are like five tiny balls of energy. The girl group are preparing to release their second album 7/27 on Friday (27 May) and judging by the songs already released, they are gripping pop by the horns. With their bubbly personalities, well-honed vocals and natural stage presence, it is no wonder the girl group have amassed somewhat of a cult following over the last three years. So just why are Fifth Harmony pipped as great role models for the young generation of teens?
Camila Cabello, Ally Brooke, Dinah Jane Hansen, Normani Kordei and Lauren Jauregui first rose to prominence on X Factor USA in 2012 when they wowed judges including Simon Cowell and Demi Lovato. Although the five-piece failed to win the series, finishing in third place, they left an imprint on Cowell and landed a deal with his Syco label.
From then on, it was quite a rapid journey to success with the Work From Home singers reaching number six on the Billboard 200 chart with their first EP Better Together. From the start, Fifth Harmony became known for empowering songs with strong messages such as their first major hit, Boss. Lyrics include: "C-O-N-F-I-D-E-N-T, that's me, I'm confident/ Don't want yo compliments, use common sense/ I'm on my Michelle Obama shhh."
Unifying women, Beyonce-style, the girls sing on the hook: "I pledge allegiance to my independent girls in here, ooh baby/ So if you're with us come on let me hear you say, yeah, yeah, yeah."
In 2015, the girls hit another break with their Kid Ink-featuring Worth It – a catchy urban pop number which reached number three on the UK charts. "Give it to me I'm worth it, baby I'm worth it," in an almost chant-like manner similar to Beyonce's Single Ladies or Destiny's Child's Independent Women.
Listen to Fifth Harmony's Worth It
Little Mix may represent girl power for the UK but there is something slightly edgier about the American quintet. Millions of young girls look up to Fifth Harmony for all kinds of inspiration and the girls have stated they are fine with their role model responsibilities. In an interview with Billboard, Kordei said in reference to their fans, dubbed Harmonizers: "It's our duty to be a voice for them. Being a woman, and killing it, is awesome."
The singer told Digital Spy: "I most definitely do see us as role models for little girls, because when I was younger I'd look up to Destiny's Child so much. Even just for guidance or advice. But I think people know that we're growing women as well. The people who look up to us are also growing themselves... We always make sure we don't do anything that goes against our moral values. If we always stay true to ourselves, people will always see that."
In three months, the music video for Fifth Harmony's latest single Work From Home has amassed almost 400 million views on YouTube while Worth It is close to one billion. Fifth Harmony clearly aren't going anywhere anytime soon and their upcoming album 7/27 will be the making of these new-era Spice Girls.
Listen to Fifth Harmony's Work From Home