They pride themselves as a vocal harmony group, so it would only make sense that R'n'B collective MiC LOWRY join forces with pop stars Fifth Harmony. All the way from Liverpool, the boys have managed to attract the attention of the former X Factor USA contestants, but a musical collaboration is yet to be confirmed.
MiC LOWRY, consisting of Akia Jones, Michael Welch, Ben Sharples, Kaine Ofoeme and Delleile Ankrah, are making waves in music circles and picking up some new friends on the. Fifth Harmony, made up of Normani Kordei, Camila Cabello, Dinah Jane, Ally Brooke and Lauren Jauregui, are one of the hottest girl groups in the US, with their debut album Reflection peaking at number five on the US Billboard 200 chart.
The ladies have also amassed a huge following on social media with more than 2.65m followers on Twitter, which is where MiC LOWRY first connected with the Worth It singers. Explaining how their friendship came about, Welch told the IBTimes UK: "We tweeted them as we'd seen them on YouTube and thought these girls are great.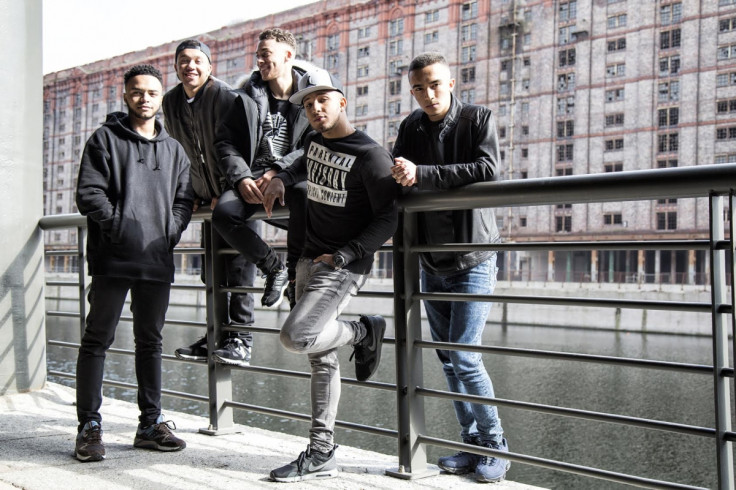 "We tweeted them and a couple of their fans were tweeting us and I guess they noticed and it created a buzz. We had little conversations because they were coming to the UK to tour and their fans were just [happy] and really took to us. A couple of the girls followed us and we're talking a bit, they're really cool."
However, when asked about the possibility of recording music with the girl group making for a 10-person song, Sharples joked: "We struggle enough to get us five on a record," while Welch suggested: "We could do the whole choir thing, no one's really done that before so watch out."
In September 2015, Jones revealed the group's hopes of embarking on a joint tour with Fifth Harmony, tweeting: "Touring with @FifthHarmony would be sick like! They're literally #SuperSuperSuperModels," while Sharples added: "These ladies just kill it! @FifthHarmony nice to see a group who are such good role models for their young female fans as well."
MiC LOWRY are currently putting together their debut album, which they say is a work in progress. Sharples explained: "The past couple of months we've been writing and recording loads and just trying to get a collective of songs together. It's fun but at the same time horrible because we've got so many songs to go with." Welch added: "It's difficult to pick one as a whole album because you don't just want to throw it all together."
Watch MiC LOWRY cover Fifth Harmony: