Great numbers of digital books are being pirated and sold on the Google Play app store, despite numerous parties reporting the copyright infringement and complaining to Google.
Log-on to the Google Play Books section and it's very easy for you to obtain pirated copies of the entire 50 Shades trilogy by E.L. James, all seven Harry Potter books, or even George RR Martin's A Song of Ice and Fire series – all bundled together and sold alongside legitimate content offerings, but costing a fraction of the usual retail price.
The counterfeit ebook accounts that IBTimes UK has seen all seem to be individual private users, with some pretending to be legitimate authors, while others style themselves as discount book stores.
Ebook piracy is a rising issue as it is much easier to transfer a digital text file to someone else, than it is to find a factory somewhere to print counterfeit physical copies of books. Latest statistics from Ofcom show that out of 71 million ebooks purchased in the UK in 2013, 10% of them were illegally obtained.
Google Play takes a commission rate of 30% for all apps sold on its store, but the amount of commission it takes on ebooks is anyone's guess. Apple takes 30% commission on all ebooks sold on its store, while Amazon and Barnes & Noble both take between 35-70% commission, depending on how expensive the book is.
We asked Google what happens to the money it takes as commission when they suspend an ebook seller for copyright infringement, and are waiting for a response.
Google claims that it takes copyright infringement and intellectual property seriously, but despite being informed about counterfeit digital books by publishers, bloggers, and even IBTimes UK, problems persist.
How to become a Google Play Books partner
It's very easy to become a Google Play Books partner – you just need to set up a Google account (or use the existing one tied to your email, YouTube account and preferences).
Then you upload your ebook for free, and Google processes the .pub file and uses metadata from third parties to automatically populate the information fields if it recognises the book.
Google allows users in 50 countries to earn revenue from selling ebooks, and will directly transfer most of the revenue (minus Google's commission) to the seller's bank account in many of these countries.
What is Google actually doing about it?
Google states that it protects all book content on "secure servers", and is very focused on making sure that the pages of an ebook that are made available for users to preview cannot be stolen.
"We disable the print, cut, copy and save functionality on all preview pages displaying book content, in order to protect your material," it states on the Google Play Books Partner Programme website.
Interestingly, Google states that it scans every single word of each book that is uploaded, in order to find keywords so it can advertise the ebook whenever a user types the keyword into Google's search engine.
The internet giant also says that all ebook sellers can choose to apply Digital Rights Management (DRM) to all of their ebooks, so that they can't be copied.
And yet, although it is scanning every single book, it doesn't seem to be picking up on pirated copies, even though its Publisher Content Policies entreat sellers not to do anything illegal and to respect copyright laws.
Quietly removing pirated content only when notified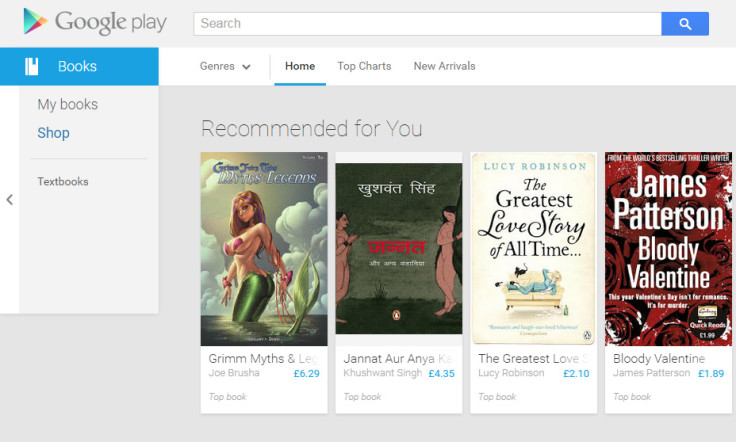 This issue was highlighted initially by Nate Hoffelder of ebooks blog Ink, Bits, & Pixels, who downloaded what he suspected were pirated novels from several ebook sellers on Google Play and found them to be fake.
He contacted Google and wrote three blog posts linking to at least 10 fake accounts. After several days he received a reply from Google stating that it "takes copyright seriously", but his questions went unanswered.
Hoffelder wrote that some of the fake accounts he listed had been suspended by Google. While the ebook seller's "author page" was still visible online together with the ebooks, the button stating the price that allows users to purchase the counterfeit books was gone.
IBTimes UK found lots of pirated ebooks on Google Play too, and we noted that one of the sellers flagged by Hoffelder that purported to be a discount book store, called "Bestsellers - Books USA Press" was still online, selling hundreds of counterfeit books, including the whole Fifty Shades trilogy for just £1.97.
We pointed this out to Google, but the internet giant was not willing to go into detail, or confirm that they had taken the accounts down, or explain what policies they have put into place to detect counterfeit ebooks when a pirate tries to sell them.
However, less than 24 hours later, the Bestsellers - Books USA Press account was not only suspended, but this time all of the ebooks on this account and all of the accounts Hoffelder reported had now disappeared completely, so you could access the URL of the account, but it showed a completely blank page.
Google told IBTimes UK: "Google Play takes copyright seriously. We take swift action when we receive a DMCA complaint. Additionally, we're constantly improving our systems to provide a better experience."
Ebook pirates are still thriving on Google Play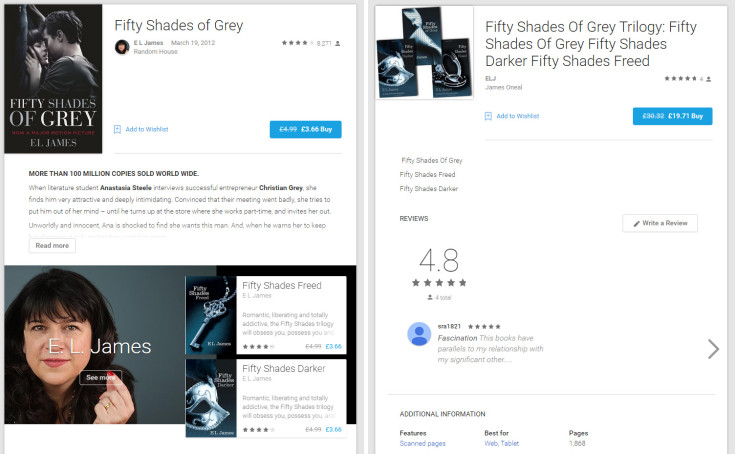 The problem is that it can be quite difficult for a regular consumer who has logged onto Google Play Books to be able to tell that the ebook has been pirated, so many people are likely to click first and think later when they notice that the ebook contains incorrect formatting or an outdated cover.
A quick search for Fifty Shades of Grey yields over 20 results. Only some of the books on sale were posted by Random House with E.L. James listed as the author, a verified picture next to her name, and picture links to her other books below the book synopsis.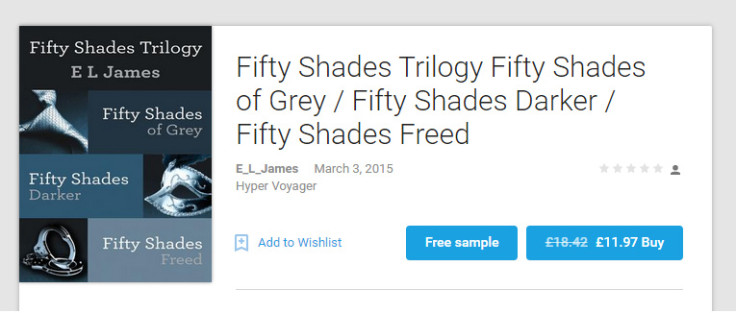 However many of the Fifty Shades books on sale were counterfeit, being sold by users with names like "James Oneal" and "Serious", as well as one account masquerading as a publisher called "Hyper Voyager", which is an amalgamation of Hyperion Books and Harper Voyager – an imprint of HarperCollins that publishes sci-fi books.
The author was listed as derivatives of E.L. James' name, such as "ELJ", "EL James", and "E_L_James". Ironically, all of these fake listings state "This content is DRM protected".

We also found the entire Harry Potter series being offered for sale by a user called "Mantesh".
This user is smart enough to upload a photo of J.K. Rowling so that the listing looks legitimate, but a quick search reveals that Mantesh is a prolific digital book pirate who operates Mantesh Library, a Facebook page offering links to free downloads of torrent files containing all sorts of ebooks, including school textbooks, Complete Idiot's Guide books, as well as pirated movies and TV series.
Perhaps to avoid detection, the user Hyper Voyager is offering all five existing books from A Song of Ice and Fire for free to download on Google Play, but when you download the file, you are given only one ebook for free, which we found to be a perfectly formatted copy of the first book in the series.
A link on the front page of the ebook took us to PayPal via downloads shopping cart website e-Junkie, where we could enter our account details and pay the user $5 (£3.19) to unlock the other four books.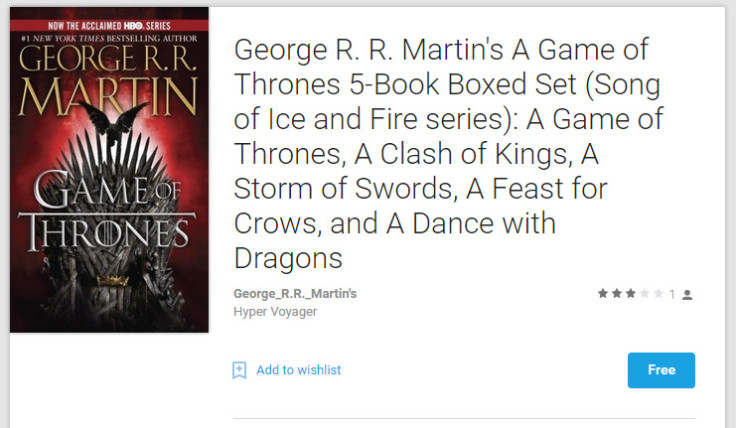 Publishers are aware, but they have bigger fish to fry
IBTimes UK contacted Penguin Random House and HarperCollins, two of the biggest publishers whose ebooks are being pirated on Google Play.
A HarperCollins spokesperson said: "Piracy threatens the creativity and intellectual rights of authors; as publishers we seek to protect both our authors and their work. We are aware that there is currently an issue with pirated titles being uploaded onto Google Play. We have highlighted this to Google and are working closely with them to resolve the issue."
Penguin Random House also confirmed that they are aware of the issue and have processes in place to issue takedown requests.
The publishing industry's trade body, the Publishers Association, told IBTimes UK that although their members are concerned about piracy on Google Play, the problem is much more rampant on peer-to-peer torrenting websites.
Its copyright infringement portal has issued over three million take-down notices since it was created in 2009, and the organisation also works closely with the police to get advertising removed from pirate websites.
However, considering that IBTimes UK easily uncovered links from Google Play to several prolific online pirates, perhaps Google should do more address the issue.