While critics have severely slammed Fifty Shades of Grey for glorifying domestic violence as romance, side effects of the erotica are already showing signs.
A Virginia based pastor has taken a stance against the BDSM themed film and has started a sermon series titled 5 Shades of Grey, wherein he would speak about issues related to sexual ethics including pornography, divorce, gay marriage, cohabitation and adultery, the Christian Post has reported.
Rick McDaniel, pastor of the Richmond Community Church, claimed that this is the best way to respond to the popularity of EL James's sexually explicit novel adaptation.
"God just sort of dropped an idea in my head," McDaniel told the website. "Within minutes I had five topics to speak on so I called my media director at the church and said 'hey tell me when that Fifty Shades of Grey movie is coming out'," he said.
Soon, McDaniel decided to hold his third such sermon series, but agreed that it is not easy to talk on such topics.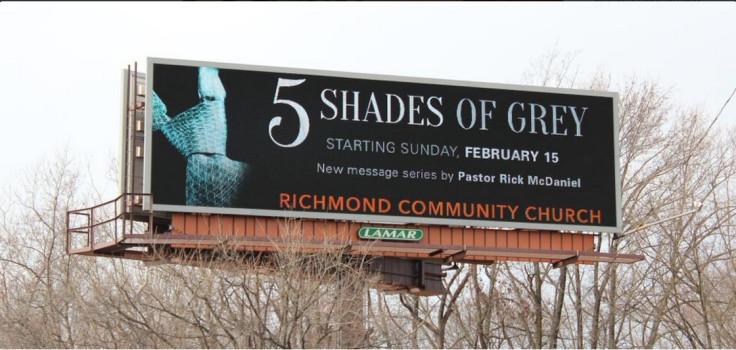 He finds it most tough to speak on cohabitation. "I think the hardest one in some ways will be the one on cohabitation. Although I think that many people would probably think the hardest one would be gay marriage."
"To talk about sex publicly is not an easy thing to do ... it's just a fine line to talk about these things and so probably that shies people away from doing it," he continues.
It appears that criticism is only proving good for the business of the movie as it set records on the box office in collections during the Valentine's Day weekend.
The R-rated film earned around $81.7m (£5.2m, €7m) over the weekend (via Variety).
Fifty Shades of Grey follows the life of Christian Grey, a billionaire with a fetish for a dominant and submissive sexual relationship who tries to convince a college student Anastasia Steele to become his love interest.
The movie has been opposed by several social and religious activist, who slammed the movie for glorifying abusive sexual relationships.