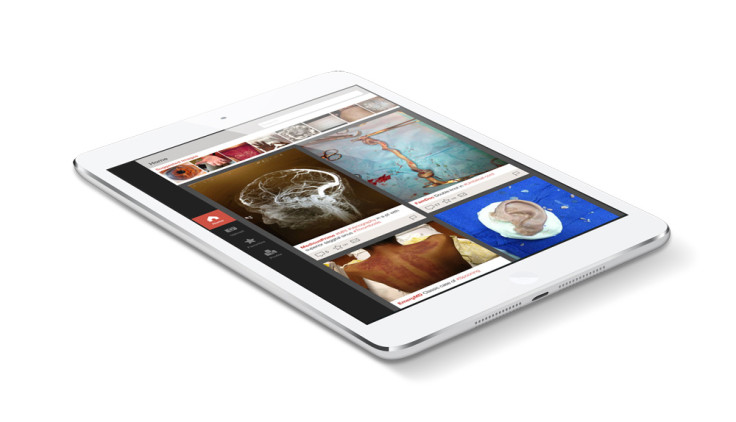 Figure 1, the free photo sharing service for healthcare professionals, is being described as "Instagram for doctors".
It's an online community where medical professionals can post images of cases that are baffling them and are looking for support and advice from their peers or simply to educate others - but be aware, some of the images might be shocking to laypersons.
It was created in 2013 and Dr. Josh Landy from Toronto, who says that his aim was to "help democratise medical knowledge".
"I want that knowledge to be everywhere in the world where there is Internet signal, because the knowledge of specialists shouldn't be beyond the reach of the world's medical community," he told the Huffington Post.
IBTimes UK has a look at Figure 1.
1. Thyroglossal Duct Cyst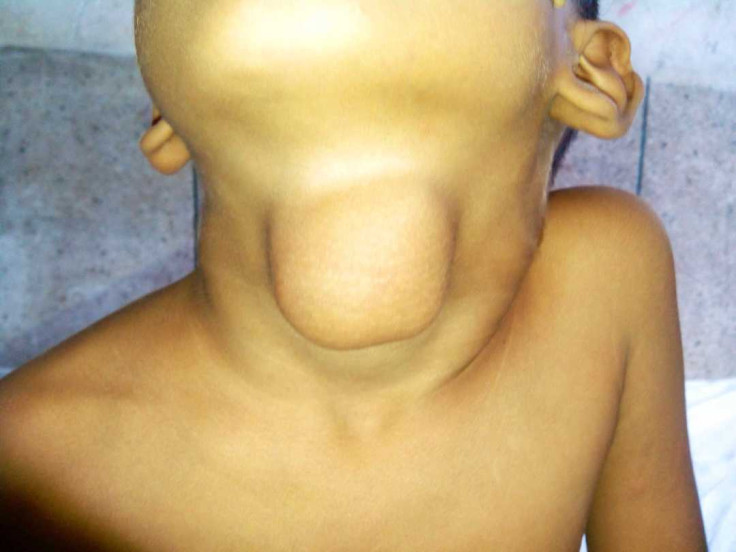 Accompanying caption: This patient has a Thyroglossal Duct Cyst. These cysts often form in childhood and are caused by cystic expansion of the remnant of the tract that forms as the thyroid gland descends from the tongue base to the neck. Often, these cysts are small, asymptomatic, and go untreated.
2. Lichenification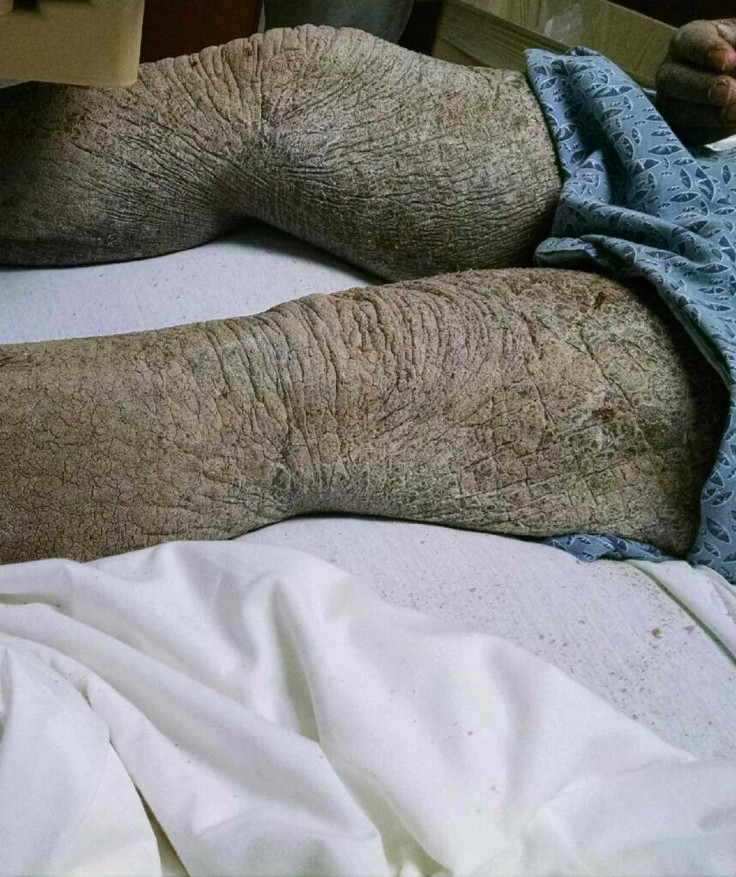 Accompanying caption: This patient presented with a one month history of progressive lichenification, with fine scale developing over his whole body, starting at the feet and sparing the face and nails. The patient had worked in a chicken coop for the past 3 years. A KOH scraping of the skin was negative. This case remains undiagnosed, and the differential is wide, including atopic dermatitis with secondary lichenification, Norwegian scabies, and syphilitic dermatitis, among others.
3. Undiagnosed ailment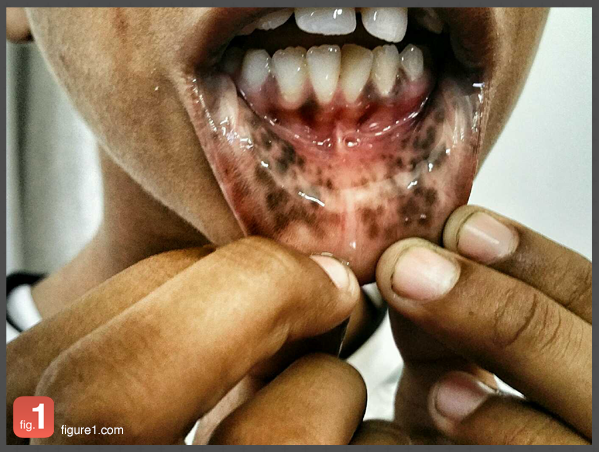 Accompanying caption: This 10 year-old patient presented with recurrent pigmentation of the lower lip and gums. He was otherwise asymptomatic. Can you identify which type of hyperpigmentation this is?
4. Varicose veins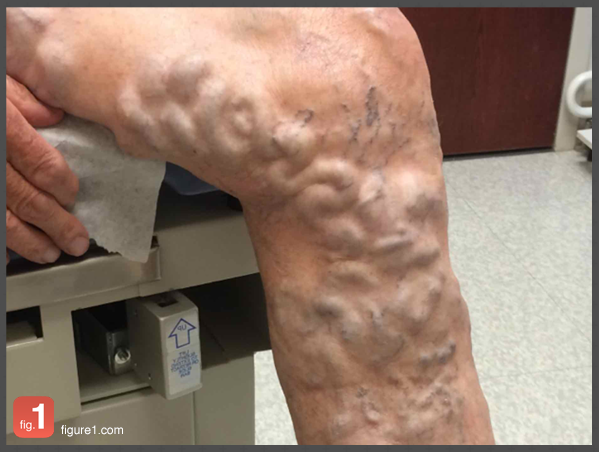 Accompanying caption: This patient presents with a severe case of reflux-induced varicose veins. He is asymptomatic, active, and at a healthy weight. Which treatment is most appropriate?
5. Apert Syndrome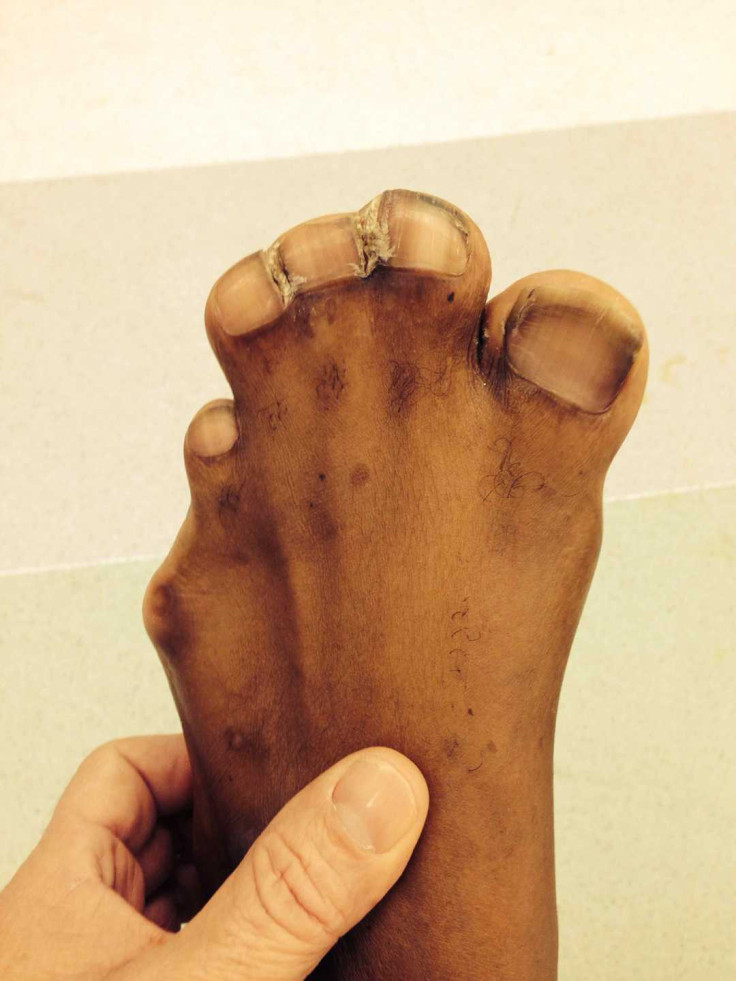 Accompanying caption: This 37 year-old male has syndactyly in all four extremities, mid facial defects, and an intellectual disability. There are many craniosyntosis syndromes which share these common features. However, the complex syndactyly seen in this image is unique to Apert Syndrome.