Roger Federer's bid to take control of the race to become world number one was derailed after he suffered a shock loss to Alexander Zverev in the men's singles finals of the Rogers Cup in Montreal on Sunday (13 August).
The Swiss ace would have been favourite to take over from current world number one Andy Murray at this week's Cincinnati Masters had he won the final but his loss means Rafael Nadal is still in the driving seat as he remains 410 points ahead of Federer. The player with the better result in Cincinnati will be crowned number one, owing to the Scot's non-participation due to injury.
The 19-time men's singles Grand Slam winner was the favourite going into the summit clash against the 20-year-old German, but Federer looked out of sorts as he went down 6-3, 6-4 in just 68 minutes.
The 36-year-old failed to convert any of his three break points during the match, while his opponent converted two out of the six that he earned.
It was Federer's first loss in a Masters Series event in 2017, having previously picked up titles in Indian Wells and Miami.
It was Zverev's second Masters Series title this season after he beat Novak Djokovic to win his first in Rome earlier this year. The German also joined Federer on five ATP tour titles this season – the most by a player – while also achieving his career best ranking of world number seven.
Federer looked to have picked up an injury after his on-court movement looked restricted which led former player Annabel Croft, who was commentating, to suggest he had picked up a back injury.
Federer, however, did not allude to any injury but simply stated that it was minor aches and pains owing to his return to hard courts after a vacation following his triumph at Wimbledon.
The Swiss tennis legend also praised Zverev, who became the youngest player to win the Rogers Cup since Djokovic in 2007. Federer believes the German has taken his game to the next level and is hoping he can have a strong end to the 2017 season.
"It is a positive week in the end," Federer said, as quoted on ATP's official site. "The final was unexpected. But it's keeping up with the good results of this year. Playing the final was a good thing.
"Of course, I'm disappointed with today. I thought I would do better. But Zverev played extremely well. He played well all week," he added.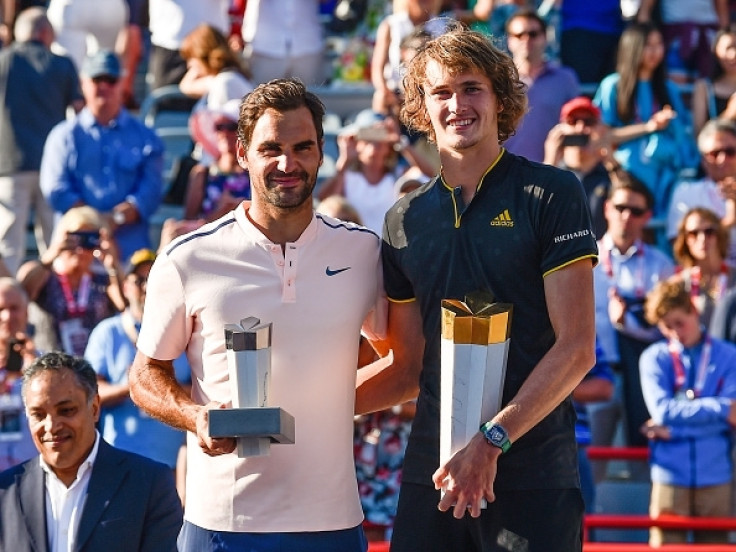 "Alexander has been around for a while now. Not a whole long time, but at this level I've gotten to play him already now for the fourth or fifth time. I practiced a ton with him.
"We know each other well. I'm just really happy for him, to see that he's taking everything not just to the next level, but the two next levels, winning two Masters 1000s. It's extremely difficult to win.
"I wish him the best for the coming months and hope he can finish the season very strong because there's opportunities now," Federer continued.
"I felt all right all week. Had a bit of muscle pain, aches and pains here and there, just because it's back on the match courts, on the hard courts.
"After vacation and practice, it's always a bit of a shock for the body. We'll have to wait and see now how I feel in the next couple of days," the 19-time Grand Slam winner added.