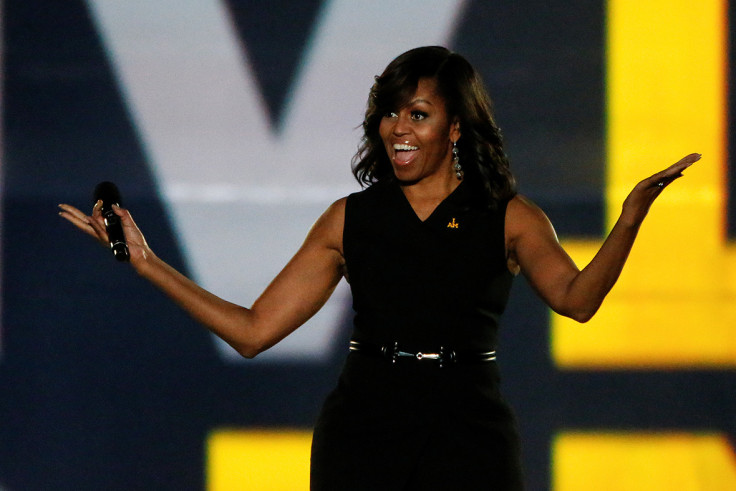 It was thought that James Corden couldn't get anyone more famous onto his popular Carpool Karaoke segment, which has starred a plethora of celebrities including Justin Bieber, One Direction, Adele and Stevie Wonder. But now the British Late Late Show host has raised the bar to new – and political – heights by inviting Michelle Obama into the passenger seat of his car.
The wife of the current US president recorded the appearance on Tuesday (21 June) en route to the White House and announced the surprising revelation via her Snapchat account. Corden's Late Late Show Twitter page subsequently shared a screen grab of the pair along with the caption: "Wait a minute ... What's @JKCorden doing on Michelle Obama's Snapchat??"
While the likes of Sia to Jennifer Lopez have accompanied the former Gavin and Stacey actor to work for a sing-song, the first lady will undoubtedly be his most famous car passenger to date. Despite most of his pop star guests breaking the ice by discussing their music while crooning to their biggest hits, we're sure Mrs Obama will pick out some great tunes to hum along to.
We can perhaps expect her to mime something by Stevie Wonder, as she revealed in March: "The very first album of my whole life was Talking Book [by Stevie Wonder]. My grandad – we called him Southside because he lived on the south side of Chicago, not very imaginative – loved music.
"He was a carpenter and collected jazz. He had turntables all around the house and reel-to-reels. I used to go to his house and play with his dog called Rex – again, not very imaginative – and play music with him," she added.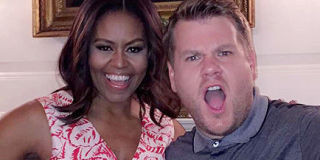 Mrs Obama's Carpool Karaoke segment is expected to air on The Late Late Show soon, but whether she will live up to the likes of Demi Lovato and Gwen Stefani remains to be seen.
Watch The Late Late Show with James Corden on weeknights at 12.37am ET on CBS.