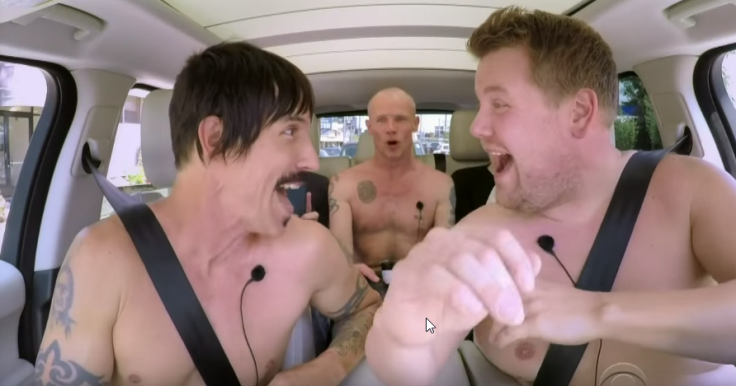 From Broadway to By The Way — James Corden followed up his last episode of Carpool Karaoke featuring stars from hit Broadway musicals with this week's guests, Red Hot Chili Peppers. Members of the American rock band accompanied the Late Late Show host as he made his way to work.
Anthony Kiedis, Chad Smith, Flea and Josh Klinghoffer hopped on board and started off the segment by offering Corden a jumbled mix of directions before breaking into a song with Can't Stop. Michael Peter Balzary aka Flea quickly followed it with a verse from Food Glorious Food from the musical Oliver.
The band also performed a song that they wrote ages ago called Heemi Lheemey, which featured a bunch of nonsense lyrics which they said they wrote while out camping.
Give It Away was also performed before Kiedis decided to take things to another level and proposed a wrestling match on someone's front lawn. Getting back into the car, the group sang Dark Necessities followed by City Of Angels.
If the segment wasn't weird enough before, when Corden asked Kiedis if he felt awkward wearing a tee shirt considering he's most often seen shirtless on stage, the band's lead decided to take off his shoes, socks and tee. Flea also decided to strip and was joined by Corden for the first of its kind "shirtless Carpool Karaoke".
A performance of The Zephyr Song and By The Way later, Corden finally reached his destination but not before he questioned Kiedis about rumours that Cher had once been his babysitter (She doesn't seem to acknowledge it!).
Watch the complete video here: