Homes for first-time buyers are seeing the biggest rise in asking prices of all sub-sectors of the market, as the affordability crunch bites harder on those struggling to get onto the property ladder.
Rightmove, the property listings website, said the average asking price for homes with two bedrooms or fewer, typically targeted by first-time buyers, rose 8.2% over the year to November 2016, hitting £192,147. Month-on-month this was a 1.7% increase.
That compares to a 4.5% annual rise in the average asking price for all homes in England and Wales to £305,670, said Rightmove. Month-on-month, this was a 1.1% fall, a seasonal drop but the lowest in five years, suggesting the market is resilient in the face of Brexit.
"Overall, house prices continue to hold up well," said Miles Shipside, Rightmove director. "Furthermore, the average time to sell of 65 days is one day quicker than at this time last year. However, price resilience is not good news for cash-strapped aspiring first-time buyers, and in spite of the more subdued time of year the smaller properties that they typically target have increased in price this month, the only market sector to show an increase."

A shortage of housing supply has driven up house prices in recent years. Coupled with falling incomes, aspiring homeowners have found it harder to buy, despite record-low interest rates.
Housebuilding continues to run well below what is needed so the government has sought to support homeownership through schemes to make buying property cheaper and easier for first-time buyers, such as with Help to Buy, shared ownership and starter homes.
London, where prices are highest and were growing faster than anywhere else in England and Wales until recently, has slipped to seventh place out of the 10 regions in the league table for annual growth rate. The average asking price in London grew by 3.9% over the year in November, said Rightmove, to £643,838. Only Wales and the North East recorded slower rates.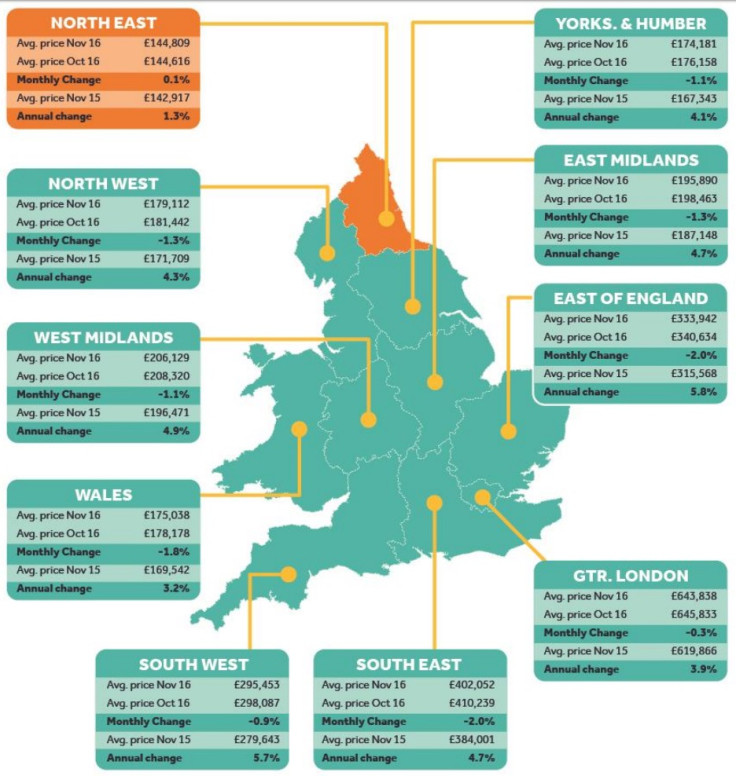 Borough by borough in London, there are sharp differences. Camden registered the fastest annual asking price growth in November, at 12.1% to an average of £1,174,095. Wandsworth was the worst performing borough, with the average asking price falling 5.6% to £786,596 in the month. The borough is home to the Nine Elms redevelopment, which some market analysts believe is heavily oversupplied with luxury newbuilds, leaving owners forced to slash asking prices to sell.