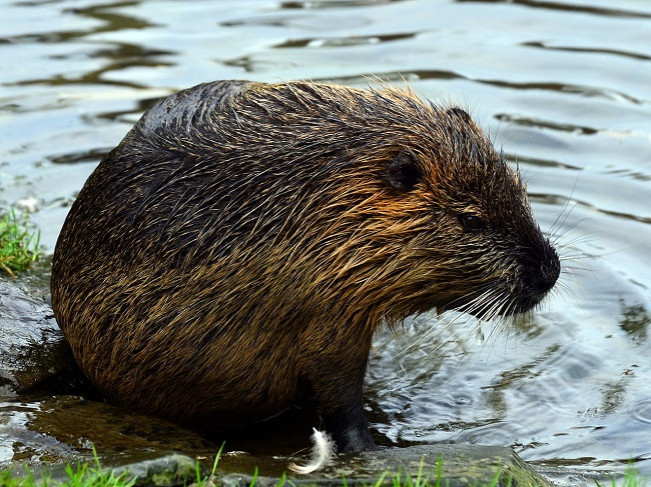 The first wild beavers to be seen in England for 500 years could be captured and put in a zoo because they pose a risk to other wildlife, the government has announced.
Three European beavers were sighted on the River Otter in east Devon earlier this year. It was the first time for centuries the beavers have bred in the wild in England.
However the government announced on Monday it was planning to capture the animals and find a new home for them, either in a zoo or wildlife animal park, as they could endanger other wildlife.
Angry conservationists believe the government has been pressured by anglers who deem the animals to be an invasive species.
George Eustice, a minister in the Department for Environment, Food and Rural Affairs (Defra) ruled out the culling of beavers in a written answer to a Parliamentary question.
"We intend to recapture and rehome the wild beavers in Devon and are currently working out plans for the best way to do so," he said.
"All decisions will be made with the welfare of the beavers in mind. There are no plans to cull beavers."
Devon wildlife consultant Derek Gow disagreed with the government's move and argued that the wild beavers should be monitored and a consultation be launched before a final decision was taken.
"They have not listened to us," he said.
The video footage that emerged in February of the animals gnawing at the base of trees and grooming themselves was described by experts as highly significant, as it strongly suggested a small breeding population of beavers now existed outside captivity.
The Devon Wildlife Trust welcomed the new residents' return to the county, saying they would bring "overall benefit" to river and wetland habitats in the UK.
It added: "We believe that they should be left alone and observed using a rigorous monitoring programme.
"This group of beavers provides us with a unique opportunity to learn lessons about their behaviour and their impact on the local landscape."
The Angling Trust was less enthusiastic and said they maintained the right to shoot them as an invasive species.
A Defra spokesman said: "All decisions will be made with the welfare of the beavers in mind.
"Depending on the source of the animals, they could be carrying a disease not currently present in the UK. In addition, beavers have not been an established part of our wildlife for the last 500 years. Our landscape and habitats have changed since then and we need to assess the impact they could have."