The six key points in Trump's Obamacare replacement plan
Support for the elderly, mothers and abortions get cut in Republican health care replacement plan.
On Monday (6 March) Republicans revealed their replacement plan for the Democrats' Affordable Care Act, aka 'Obamacare'. The GOP's draft bill gives a tax break to health insurance CEOs, charges people who don't have health coverage and pulls funding from the poor, women and the elderly.
"House repeal bill decimates Americans' health care. Devastating for women. Cuts Medicaid & hurts Medicare. We will fight this," said Sen. Ron Wyden (D-OR) the ranking member on the Senate Finance Committee that provides oversight for American health care.
Republican House Speaker Paul Ryan (R-WI) said on Monday that the "American Health Care Act" is a plan to drive down costs, encourage competition, and give every American access to quality, affordable health insurance".
The bill, Ryan said in a statement, will protect young adults, patients with pre-existing conditions and provide a stable transition from the Affordable Care Act, which was signed in 2010.
Yet a number of Republicans have already spoken out against the proposal. "We are concerned that any poorly implemented or poorly timed change in the current funding structure in Medicaid could result in a reduction in access to life-saving health care services," wrote several Republican senators in a letter on Monday.
The new bill would take at least two years to roll out, and even longer to see the results. But we've rounded up six of the major changes it would introduce:
A 30% surcharge on health insurance for a year if you haven't been covered for two months
Under its "Encouraging Continuous Health Insurance Coverage" clause the bill would allow insurance companies to charge anyone who hasn't been covered by a healthcare insurance plan for more than two months (63 days) the year before 2019 an extra 30% on top of their healthcare premiums.
A tax break for health insurance CEOs making over $500,000 and rich Americans
A provision in the Affordable Care Act that taxes incomes of insurance executives above $500,000 has been removed from the Republican bill. It also reverses taxes on high income Americans used to offset the healthcare costs to poorer Americans and gives wealthy Americans subsidies to purchase insurance.
No private health coverage for abortion and defunding Planned Parenthood
For one year the bill blocks federal payments to any state program that offers abortions, other than those in cases or rape or threats to the mother's health. This measure effectively defunds Planned Parenthood, which offers abortions among other health services. Tax credits for health insurance coverage also cannot be used to "purchase plans that offer elective abortion coverage," according to the bill.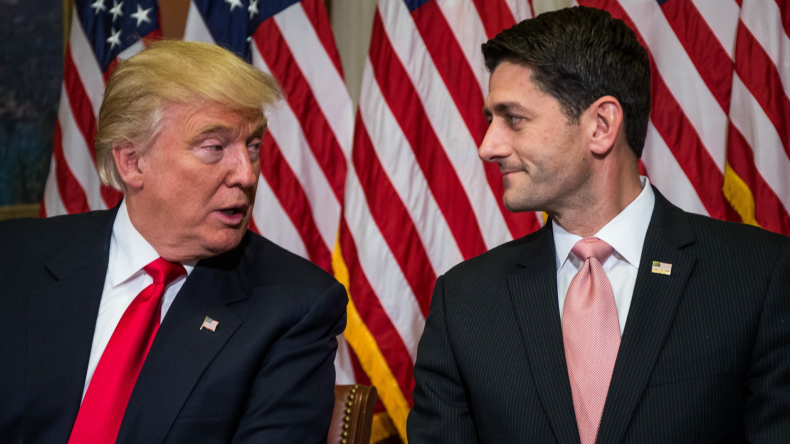 Tax cuts for the rich and cost rises for the poor
"People who are lower income, older or live in high-premium areas would be particularly disadvantaged," said the Kaiser Family Foundation after examining an early draft of the bill. The value of tax credits for poorer Americans will shrink under the bill. People earning earning less than $30,000 will get less help than they did under the Affordable Care Act.
At the same time, taxes on tanning salons and other medical luxuries, as well as a surcharge on wealthy insurance purchasers will disappear, releasing $346bn over 10 years for those earning more than $200,000 annually.
Mandated healthcare coverage is eliminated
Under the bill individuals and employers will no longer be forced to have healthcare coverage. Penalties on people for not being covered will be repealed, allowing people to drop their coverage as soon as the bill takes effect. As healthier people drop their coverage, sicker ones, and the elderly, will be forced to pick up the slack.
Cutting federal funding for states Medicaid
American states will each individually get less money to help subsidise insurance coverage for about 1 in 5 Americans through Medicaid. Republicans say their solutions would make Medicaid more cost-efficient without punishing the poor and disabled, while spurring private insurers to offer attractive products for the estimated 20 million consumers in the market for individual policies.