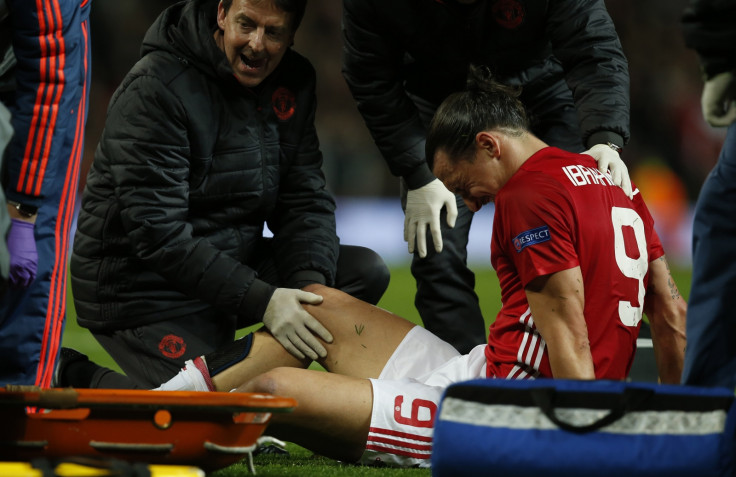 Manchester United striker Zlatan Ibrahimovic has moved to reassure supporters that he is on the mend after surgery to correct significant ligament damage suffered during last month's tense Europa League quarter-final second-leg victory over Anderlecht at Old Trafford.
As revealed by agent Mino Raiola earlier on Tuesday (2 May) and subsequently confirmed by the club, the charismatic Swedish striker recently underwent surgery at University of Pittsburgh Medical Center in America and will make a full recovery.
While such an injury was always expected to keep Ibrahimovic sidelined for the rest of the season, many had begun to question whether he would play again amid reports of an imminent 12-month lay-off.
However, Raiola defiantly claimed that the issue is not career-ending and the charismatic 35-year-old insists he is already feeling stronger after going under the knife.
"Fixed, done and stronger," he posted on Instagram alongside a picture of his hospital identification wristbands. "Once again thank you for the support. We will enjoy my game together soon."
Speaking via the same platform last week, he said: "First of all, thank you for all the support and love.
It's no news I got injured so I will be out of football for a while. I will go through this like everything else and come back even stronger. So far I played with one leg so it shouldn't be any problem. One thing is for sure, I decide when its time to stop and nothing else. Giving up is not an option. See you soon."
While Ibrahimovic is clearly intent on returning to the pitch, it remains to be seen what will transpire with regards to his United future. The serial trophy winner notched 28 goals in 46 appearances across all competitions after arriving in English football on a free transfer from Paris Saint-Germain in July 2016 and his initial one-year contract included the option of a further 12 months.
Although both sides expressed an interest in coming to an agreement after talks commenced in March, Ibrahimovic's future remained unresolved at the time of his injury. Clubs from America and China have previously been linked with the forward and Jose Mourinho recently refused to be drawn on his position beyond the summer.
"I don't know, I don't want to know, I'm not interested in it, I don't care about it," he said before the goalless derby draw at Manchester City. "I just want the difficult surgery to go well and, of course, we think he is in fabulous hands and will recover from the injury and prepare himself mentally for the next step.
"I think the next step will be what he wants. I have always said he is much more important than myself and what I want. I always want the players to be happy, to choose their future, but now, before such an important surgery, I think it's a waste of time to speak about what [is] next."
United have been beset by injury woe of late, particularly in a defensive capacity. Marcos Rojo also sustained a serious knee problem against Anderlecht, while Chris Smalling (knee), Phil Jones (toe) and James Wilson (knee) remain sidelined. Timothy Fosu-Mensah hurt his shoulder against City before Eric Bailly and Luke Shaw were both withdrawn during Sunday's controversial 1-1 draw with Swansea City. The latter, another feared lost for the remainder of the 2016-17 campaign, is set to visit a specialist after scans revealed that he had damaged foot ligaments.
Mourinho will welcome back midfielders Paul Pogba and Marouane Fellaini for Thursday night's trip to La Liga outfit Celta Vigo.