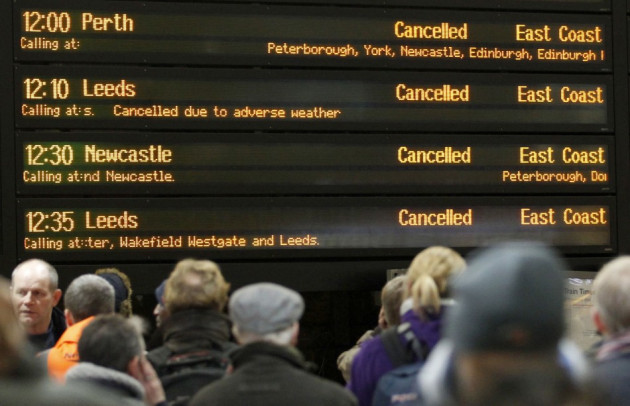 Heavy rain and flooding has caused further delays and disruption on the roads and railways on the busiest travelling day of the year.
Rail services to Britain's busiest airport have been suspended and travel has been disrupted up and down the country on the day huge numbers of people are trying to get home early for Christmas.
In London, a fire in a control room in Acton, knocked out the high-speed Heathrow Express all day. Other services in and out of Paddington train station - one of London's busiest termininals - were also affected.
A spokesman said: "Due to ongoing unplanned engineering work by Network Rail in the Acton and Stockley areas all Heathrow Express Services are currently suspended.
"Heathrow Express apologises for any inconvenience caused and will make every effort to provide the best possible service to and from the airport once services resume."
Heathrow airport was geared up for an expected 123,000 passengers to depart today (Friday) with 104,000 arrivals. A further 114,000 departures are expected on 23 December and 88,000 on Christmas Eve.
Both Heathrow and Gatwick have confirmed that the airports were running as usual.
Motorists had to contend with floods in Reading, Bedford, Nottingham, Bromsgrove in Worcestershire, Henley-on-Thames in Oxfordshire and Egginton in Derbyshire, causing long queues on non-flooded roads.
Rail services have been stopped by flooding on lines between Crewe and Chester and Ellesmere Port and Hooton and CrossCountry train services have warned that services through Leeds, Sheffield and York face disruption by strike action by members of the RMT union.
The AAsaid it has helped 108 motorists whose cars were stuck in floodwaters.
Challenging conditions
A spokesman said: "The amount of rain forecast for this weekend and into Christmas is causing some concern as it could cause localised flooding almost anywhere, which will inevitably affect people heading off for the holiday period.
"With so much rain expected, driving conditions could be pretty challenging at times with surface spray and standing water. Keep your speed down and leave at least a three-second gap between you and the vehicle in front. Take a few minutes to check your car over and clean its lights.
"Pack a few extra warm and waterproof layers, food, water, torch, fully-charged mobile and an atlas or sat-nav in case of any unexpected diversions; and, if you're travelling with children, take things to keep them entertained."
The AA warned that the M25, the M6 in the West Midlands, the M1 near Milton Keynes, the M5 near Bristol and the M62 near Warrington would be worst hit and drivers may face delays and congestion over the next few days.
The Environment Agency has issued more than 60 flood warnings across the UK, with an additional 260 flood alerts.
Forecasters are warning that some areas of the UK could expect more than an inch of rainfall over the next 24 hours.
Billy Payne, a forecaster for MeteoGroup, said: "Most of the country is still covered in heavy rain.
"That rain's going to become more confined to the North tonight, while the heaviest rain will be in southeastern Scotland.
"Over 30mm (1.2ins) will fall later on across the southeast of Scotland and there will still be heavy bursts elsewhere in the north of England and for a time in the Midlands as well."
Cornwall and Devon will be seeing the worst rain on Saturday night which will then move northeast.
"Saturday will be a lot like today and in some areas will be quite heavy, so not particularly pleasant and will add to flooding worries.
"One of our models suggests up to an inch will fall tomorrow night across Cornwall and there could be half an inch across the UK in general."